Shannonside FM - Shannonside News - Shannonside Radio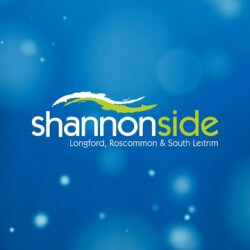 About Shannonside 104 FM
Listen to the online radio of Shannonside Radio live, which launched in 1989 together with its twin-station Northern Sound. Shannonside's service area is county Longford, Leitrim and Roscommon, where the radio is distributed on analogue frequencies. The radio's schedule has networked programming with its twin station, but also has its own programmes too. The station is in the ownership of Radio Kerry Holdings Ltd.
The broadcaster serves primarily the adult-age group in its editorial area, so more speech related programmes keep up the flow of information mainly about locally relevant topics and issues. Similarly, the news-sections have more locally relevant news, sports, travel and weather info besides the national and international level news. The radio's playlist is a mild selection from the last four decades' best pop music and also country and folk diversify the music palette.
The weekday mornings of Shannonside FM start with "The Breakfast Show" from 7am to 9am, while the weekends begins from 8am to 10am with "The Weekend Breakfast Show" on Saturday, and from 8am to 10am on Sunday.

Shannonside 104 FM 's slogan: "The Spirit of Longford, Leitrim & Roscommon"
Do You see incomplete, outdated or incorrect information on our site? Do You think You know more about a radio? Help us, write to us on Facebook and in exchange we grant You advertisement free use of our site! :)
Contacts
Boyle, Roscommon

-

95.7

FM
Central Leitrim

-

97.2

FM
North West Cavan

-

97.2

FM
Roscommon Long'd S Leitrim

-

104.1

FM
West Roscommon

-

104.6

FM
The broadcast is available on the traditional analogue way in counties Longford, Leitrim and Roscommon, and You can listen in without territorial restictions by its online radio stream.
Shannonside 104 FM Frequency map






















































More radios
Shannonside 104 FM comment box
This box is not read by the Radio's staff! So if You would like to ask for a song, or to send a word to the radio presenter, try the
Facebook Box
or one of the
contacts!

06:33
Sheryl Crow - A Change Would Do You Good

06:30
Lewis Capaldi - Hold Me While You Wait

06:26
Pink - JUST LIKE A PILL

06:22
Sophie Ellis Bexter - Take Me Home

06:18
Lizzo - About Damn Time


06:08
Miranda Lambert - The House That Built Me

06:04
Lenny Kravitz - It Ain't Over Till It's Over

05:57
Jonas Brothers - What A Man Gotta Do

05:54
Dermot Kennedy - Something to Someone
Get older songs
00:00 -
Music Through The Night
07:00 -
The Breakfast Show
Wake up every weekday morning to the Breakfast Show on Shannonside FM from 7am! All the news, showbiz gossip, the papers, the best music on the radio so start your day the right way; join us every weekday morning from 7am for The Breakfast Show!!
09:00 -
The Joe Finnegan Show
Entertaining, informing, engaging, funny, heart-breaking, fast-paced, agenda setting and thought provoking. The dictionary doesn't have enough words to describe The Joe Finnegan Show. The show has for over three decades been a community and friend for its listeners. The programme gives a voice to the voiceless in society. The flagship show on Shannonside Northern Sound is on air weekdays from 9am to 11am. It broadcasts to Counties Longford, Leitrim, Roscommon, Cavan, Monaghan and surrounding areas and can also be 'gotten anywhere in the world on the worldwide web. The show stokes debate and gives a full picture of what's going on in the region; the country and internationally. Through letters, emails, phonecalls and text messages the listeners decide what will be covered on the programme. Problems are shared.  The Joe Finnegan Show and its listeners will go about solving them. Throughout the two hours you might get angered, irritated or shocked.  The Joe Finnegan Show will always be compelling listening. During the show you can contact the Show by text or whatsapp on 087 1200900 or call 0818 227777 . Listeners can contact the show 24/7 on 0818 227 100 or by email to joe@shannonside.ie.  You can also follow The Joe Finnegan Show on Twitter https://twitter.com/JoeFinneganShow Regular features includes – The paper review: GP Dr Illona Duffy from Swan Park Surgery, Nutritionist & Bio Resonance Practitioner Laura Thompson, Crimeline, Dentist Joanne O'Riordan of Church St Dental Clinic A weekly panel discussion on the topics of the week featuring well-known people in the region. A Review and Preview of all the sporting action with Dave Hooper Legal Feature with Byrne, Carolan, Cunningham Solicitors.
The 11 to 1 Show weekdays on Shannonside Northern Sound is your perfect mid-morning pick me up! We have the ideal blend of classic and contemporary Irish & American Country music with a smattering of your favourite hits from yesteryear thrown in for good measure too. There's a plethora of addictive interactive quizzes to get the auld grey matter working! Can you crack "The Code"? Paul will play you some short clips from four well-known songs. Taking the first letter of each of the song titles reveals the Code Word. But Beware!! It's not as easy as it sounds! Try cracking today's at 11.20. There's the "Long Lost Lyric" at 12.35 where Paul and his team tease you with just a few words from a famous song and task you to suss the song's title. Pit your wits in the show's General Knowledge quiz "Something Old, New, Borrowed and Blue" and see if you can secure your place in the Hall of Fame by answering one or more of those questions correctly! If all that's not enough, there's some merry banter together with the Coffee Break Selection, Midday 70's Double Play and, of course, your requests and dedications along the way. The 11 to 1 Show is the fastest two hours of the day! Join in the craic by texting to 087 1200 900 or you can call 0818 227777.
Let's Talk with Anne Norris covers all of the issues and stories that matter to you in the Shannonside region. From current affairs and politics, to the latest issues in farming or community activities.  And the most powerful and emotional stories of real people.  You will hear it all and more on Let's Talk Monday to Friday from 1.30pm-2.30pm. Live interviews, special live reports from the Shannonside FM news team and all the breaking news from across the region is what makes the show  the most popular lunchtime news show in Counties Longford, Leitrim and Roscommon. The show also loves to hear from local people to share their experiences and highlight local community news and events.  If you'd like to get in touch with the show, you can text directly into studio on 087 1200 900 or call on 081822 77 77. Let's Talk so the Shannonside region can listen.
14:30 -
The Afternoon Show
17:30 -
News 30 – Main Evening News
Walker's Way is presented by Junior Walker every weekday from 6.00 to 8.00 pm on Shannonside Northern Sound. The programme is a mix of country music; Irish and American.  The show also contains a sprinkling of golden oldies and Irish ballads.  Features  includes the popular Teatime Teaser where Junior plays the intros to well known songs!!  Listeners are then asked to identify the song.  There's a lot of stiff competition to be first in with the answer!! Other features on the programme includes 2 tracks from the archive. There's a gospel music slot and we take a trip down memory lane with old songs from days gone by.  For those of you who enjoy a good old sad song Walker's Way caters for this with a tearjerker section. On the show there's the 5 minute quiz which asks questions about the content of songs. And just for a change on Wednesday evening Walker's Way crosses the atlantic for an all American country show with a featured country music artist.  So whatever you are up to weekdays; join Junior for Walker's Way from 6pm.
It was once said "sports do not build character - it reveals it" Sportsbeat  will champion the many disciplines of sport and the people involved in them. The programme will give you an insight into the sporting world with a focus on the many sporting achievements throughout the region.  The show will entertain, analyse and inform you about the sporting endeavours of people in  Longford, Leitrim, Roscommon, Cavan, Monaghan and surrounding areas.  From the chase of All-Ireland senior glory to the last-minute goal in a local derby club match. From try saving tackles to 100 metre sprints; Sportsbeat will talk about it all. Sportsbeat with Kevin McDermott on Shannonside Northern Sound FM throws in every Monday night between 8 and 9pm.
Join Mike Mulvihill from the green room for Power Play 'Homegrown' every evening from 9pm to 11pm. The show features new Irish releases from both signed and unsigned Irish artists.  Each week Mike will choose a new release as one to watch.  He will also keep you up to date with featured album tracks.  The show also brings you the latest Irish music news as well as an insight into some of the tracks played and how the came to be written, recorded and released.  On the show from time to time you will also hear interviews with some of those played and details of super competitions. If you are a band or an artist who would like to have an opportunity to get your music heard by the Shannonside Northern Sound audience please email mike@shannonside.ie.  And you never know, perhaps on the next 'Homegrown' show Mike will be introducing you to listeners of the show.