Shannonside FM - Shannonside News - Shannonside Radio
If the online broadcast of Shannonside 104 FM doesn't start, or lags,
please contact us on the
Contact page
, or try to find the error on the
Troubleshooting page
.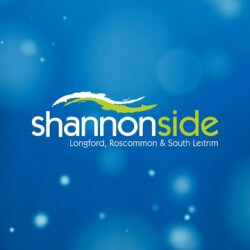 About Shannonside 104 FM
Listen to the online radio of Shannonside Radio live, which launched in 1989 together with its twin-station Northern Sound. Shannonside's service area is county Longford, Leitrim and Roscommon, where the radio is distributed on analogue frequencies. The radio's schedule has networked programming with its twin station, but also has its own programmes too. The station is in the ownership of Radio Kerry Holdings Ltd.
The broadcaster serves primarily the adult-age group in its editorial area, so more speech related programmes keep up the flow of information mainly about locally relevant topics and issues. Similarly, the news-sections have more locally relevant news, sports, travel and weather info besides the national and international level news. The radio's playlist is a mild selection from the last four decades' best pop music and also country and folk diversify the music palette.
The weekday mornings of Shannonside FM start with "The Breakfast Show" from 7am to 9am, while the weekends begins from 8am to 10am with "The Weekend Breakfast Show" on Saturday, and from 8am to 10am on Sunday.

Shannonside 104 FM slogan: "The Spirit of Longford, Leitrim & Roscommon"
Do You see incomplete, outdated or incorrect information on our site? Do You think You know more about the radio? Help us, write to us on Facebook and in exchange we'll reward You with advertisement free use! :)
Contacts - Phone number, SMS, E-mail, Facebook etc.
Boyle, Roscommon

-

95.7

FM
Central Leitrim

-

97.2

FM
North West Cavan

-

97.2

FM
Roscommon Long'd S Leitrim

-

104.1

FM
West Roscommon

-

104.6

FM
The broadcast is available on the traditional analogue way in counties Longford, Leitrim and Roscommon, and You can listen in without territorial restictions by its online radio stream.
Shannonside 104 FM Frequency map
More radios
Shannonside 104 FM comment box
This box is not read by the Radio's staff! So if You would like to ask for a song, or to send a word to the radio presenter, try the
Facebook Box
or one of the
contacts!
News about Shannonside 104 FM
Learning Waves' Journalism Graduate Programme returns for 2023
Learning Waves has secured funding for its Journalism Graduate Programme for 2023. The programme will see 10 graduates placed across 10 Independent Radio Stations for a period of 5 months beginning September 2023. The programme involves plenty of hands-on training which will equip the students with the skills to work in...
More >>
radiotoday.ie - 24.04.2023
00:00 -
Music Through The Night
08:00 -
The Weekend Breakfast Show
10:00 -
The Saturday Connection
The Saturday Connection brings you the best of what is happening in the world of arts and entertainment in the Shannonside Northern Sound region and from further afield. The show is broadcast every Saturday morning from 10am to 11am; and it is a mixture of live guests in conversation and performance.  The Saturday Connection also previews upcoming arts and entertainment events in the region.  The Show is punctuated by music on CD and often live songs from the presenter Charlie McGettigan.
18:00 -
American Country's Greatest Hits
20:00 -
The Wind That Blows
The Wind That Blows with the Cavanman every Saturday night from 8 to 10pm.  Tune in & join Martin Donohoe on The Wind that Blows on Shannonside Northern Sound .  You will explore and celebrate our world of Real Irish Tradition.  The Show is two hours of carefully selected Irish tunes and songs.  They will hopefully add not just good humour but some notes of authenticity to your listening pleasure.  From the Dubliners to Sharon Shannon and from Blackwater Ceili Band to Paul Brady; solo fiddlers and up and coming trad acts.  You will find it difficult not to tap your toes or to  sing along to familiar choruses. Bio: Martin Donohoe is a broadcaster, musician, and NYAH festival event organiser. He lives in Cavan Town and was born and raised in Cavan . On 16th March 2022 to a sold out Town Hall Cavan Celebration Concert  Martin celebrated 40 years of radio broadcasting starting with pirate radio on CCR.  Martin received his TTCT from CCE for Music Teaching. Martin has journeyed America, Canada and throughout Europe as a traditional musician. He can be reached at cavanmusiclive@gmail.com Follow Co Cavan NYAH on Facebook.
23:00 -
Music Through The Night