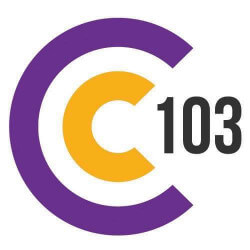 About C103
Listen to the online radio of C103 live, which was launched in 1990 as County Sound 103FM broadcasting to North County Cork only, but later its area expanded to the whole county, and its name changed to its present form in 2008. The radio is the sister station of Cork's 96FM, and is in the ownership of Wireless Group.
The station's music palette is similarly colorful as its sister station's, but goes back in time, so mainly focuses on the greatest hits of the 70's and 80's, but also some fresher pop music, Irish music and country diversify the playlist.
The schedule of C103 brings talk-shows through the day in most of the imaginable topics, so current affairs, entertainment, showbiz, arts and even agriculture and rural life are discussed and also phone-ins sustain the connection between the radio and its listeners. The broadcaster operates as a local radio station, so in the hourly news bulletins, County Cork related news and sports, travel and weather information are stressed more besides the national and international news.
The station wakes up its listeners on weekdays from 6am to 10am with "Cork's More Music Breakfast with Ken Tobin", while the Saturday's kickstart is the "Saturday Breakfast with Nick Richards" from 7am to 10am. On weekdays "Cork Today with Patricia Messinger" from 10am to 1pm glances behind the most exciting current affairs.

C103 's slogan: "Cork's Greatest Hits"
Do You see incomplete, outdated or incorrect information on our site? Do You think You know more about a radio? Help us, write to us on Facebook and in exchange we grant You advertisement free use of our site! :)
Contacts
Bantry, SW County Cork

-

102.7

FM
Carrigaline

-

103.5

FM
Clonakilty, SW County Cork

-

103.9

FM
Cobh

-

103.5

FM
Cobin & Monkstown, Co Cork

-

103.5

FM
Cork City

-

102.6

FM
Fermoy, County Cork

-

103.3

FM
Kinsale, County Cork

-

103.0

FM
Macroom, West Cork

-

103.9

FM
Mitchelstown

-

102.9

FM
North County Cork

-

103.7

FM
North East County Cork

-

102.9

FM
West County Cork

-

103.3

FM
Youghal, County Cork

-

103.0

FM
You can follow the broadcast with your traditional analogue radio, and also on the digital solutions without territorial restrictions, we recommend the online radio stream.
C103 Frequency map





















































Hits Bits - Ireland's Classic Hits

More radios
C103 comment box
This box is not read by the Radio's staff! So if You would like to ask for a song, or to send a word to the radio presenter, try the
Facebook Box
or
one of the contacts!
News about C103
Recommended Radios

16:59
Weekend Sports with Mark Malone & Rory Burke

16:50
Bon Jovi - Livin' On A Prayer

15:53
Tom Grennan - Little Bit of Love

14:52
Mathew Wilder - Break My Stride

14:25
David Bowie - China Girl

13:53
Don Baker - Winner In You

13:48
John Nelson - Old Dungarvan Oak / Cottage In The Country / Pretty Little Girl From Omagh / 21 Acres Of Land / Hard Times Lovin Can Bring

13:35
Derek Ryan - Ya Can't Stay Here

13:31
Eddie Carey - For The Longest Time

13:18
Joe Dolan - It's You It's You It's You

13:15
Brendan O'brien - Little Arrows
Get older songs
06:00 -
Totally 80s with Wayne Hilton
Hits from the decade that taste forgot!
08:00 -
The Arts House with Elmarie Mawe
News from theatre, cinema, showbiz & literature
10:00 -
C103's Irish Sunday with JohnPaul McNamara & John Greene
Irish hits for your weekend
14:00 -
Weekend Sports with Mark Malone & Rory Burke
GAA commentaries and national coverage of games at all levels across Cork
19:00 -
Where the Road Takes Me with John Greene
Interesting people and their stories
20:00 -
Totally Irish with Tim Coughlan
Your requests and the very best of Irish music
23:00 -
Cork Today - Repeat