RTÉ Lyric FM – Lyric FM LIVE – Lyric FM Listen LIVE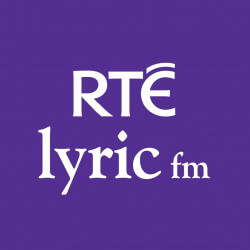 About RTÉ Lyric FM
Listen online to the internet radio of RTÉ Lyric FM live, which has been broadcasting nationally since 1999 from its Limerick studios. The station is in the ownership of Raidió Teilifís Éireann which is Ireland's National Public Service Broadcaster.
RTÉ Lyric FM provides the conservative entertainment within RTÉ's radio group, therefore the playlist is composed of classical music, which means classic, opera, jazz, world, traditional, contemporary music - even movie soundtracks - the point is that the sounds have been made with traditional instruments. The music is the main fabric in the radio's non-stop broadcast, but there is some talkative time when topics about the origins of the played music, and about the arts of Ireland and the world help to place the heard music pieces into context.
The broadcaster starts the weekdays with its breakfast show "Marty in the Morning" from 7am to 10am hosted by Marty Whelan who picks the best tunes to wake up, and besides the music, informs his listeners about the latest news and gives travel and weather updates.

RTÉ Lyric FM 's slogan: "Where Life Sounds Better"
Do You see incomplete, outdated or incorrect information on our site? Do You think You know more about a radio? Help us, write to us on Facebook and in exchange we grant You advertisement free use of our site! :)
Contacts
Athlone

-

98.9

FM
Ballybofey, Donegal

-

99.3

FM
Bantry, SW County Cork

-

98.3

FM
Casla, Galway

-

98.0

FM
Central Mayo

-

98.9

FM
Cork City

-

99.3

FM
Cork City and SE County Cork

-

98.8

FM
County Dublin

-

96.7

FM
County Monaghan & Armagh City

-

98.5

FM
Dingle Peninsula, Kerry

-

98.7

FM
Dunquin, Kerry

-

98.3

FM
East Donegal and Derry area

-

98.8

FM
East Ireland

-

98.7

FM
Falcarragh, Donegal

-

98.4

FM
Fermoy, Cork

-

99.0

FM
Kinsale, Cork

-

98.6

FM
Lehinch, Co Clare

-

99.3

FM
Limerick City

-

99.0

FM
Mid Kerry

-

98.0

FM
Mid Tipperary

-

98.6

FM
Mitchelstown, Cork

-

98.2

FM
NE Donegal & N Northern Ireland

-

97.9

FM
NE Ireland, SE & Central N Ireland

-

95.2

FM
North Donegal

-

99.4

FM
North East Wicklow

-

99.1

FM
North Innishowen

-

98.5

FM
North Kerry

-

98.8

FM
North West Ireland

-

97.8

FM
North West Mayo

-

99.5

FM
SE Tipperary & N Waterford

-

97.9

FM
South East County Cork

-

97.8

FM
South East Ireland

-

99.2

FM
South West County Cork

-

97.9

FM
South West Ireland

-

99.6

FM
Waterford City

-

97.9

FM
West County Galway

-

99.1

FM
West County Waterford

-

98.1

FM
West Donegal

-

99.2

FM
West Ireland

-

98.4

FM
West Kerry

-

99.1

FM
The broadcast is available on the traditional analogue way, and also on the digital solutions like DigitalTV and as online radio stream.
DigitalTV: Sky and Sky+: Channel 0165
RTÉ Lyric FM Frequency map






















































More radios
RTÉ Lyric FM comment box
This box is not read by the Radio's staff! So if You would like to ask for a song, or to send a word to the radio presenter, try the
Facebook Box
or
one of the contacts!
News about RTÉ Lyric FM
RTÉ runs Trick Our Street campaign for Halloween
RTÉ radio stations are holding a Halloween extravaganza on October 30th with lots of giveaways across the children. In a year that children across the country can't traditionally Trick-Or-Treat, RTÉ Radio's Trick Our Street campaign offers neighbours a chance to experience Halloween magic together. Everything from hampers filled with Halloween goodies for listeners and all their neighbours from Tesco, to a family trip to Orlando, Florida, will be up for grabs across RTÉ Radio 1, 2FM, Raidió na Gaeltachta and Lyric FM...
More >>
radiotoday.ie - 27.10.2020
JNLR: 81% of the population listen to radio every day
The latest radio listening figures show 81% of the population are tuning in every day, which translates into weekday figures of 3.2 million listeners. More than half tune into their local or regional station and 43% listen to a national station. Among the younger, 15 to 34-year market, 71% listen daily. Gabrielle Cummins, Chairperson of the Choose Radio group says access to radio on smart devices is helping radio stay at the top of its game: "The growth in streaming services has revitalised radio advertising and reiterated its relevance to the listener. Access to radio is now...
More >>
radiotoday.ie - 06.02.2020
Do You like this radio? Recommend it to your friends!
Recommended Radios
01:00 -
Lyric Through the Night
The best of classical music including full works, chamber music and RTÉ lyric fm's acclaimed CD releases.
07:00 -
Daybreak with Evonne Ferguson
Evonne Ferguson will be up with the early birds to ease you into the weekend with music from across the centuries, plus regular intervals for news, weather and traffic updates.
10:00 -
The Hamilton Scores
Let the Hamilton Scores become one of your regular weekend fixtures as George kicks off an unbeatable line-up of musical greats and tales from his travels.
13:00 -
Movies and Musicals with Aedín Gormley
Escape to the Movies with Aedín Gormley. Classics from stage and screen for your Saturday afternoon.
16:00 -
Evelyn Grant's Weekend Drive
The best orchestral works, chamber music and favourite tunes, performed by great international and Irish artists.
18:30 -
Culture File Weekly
Join Luke Clancy for a compilation of highlights and extras from his weekday reports on Lorcan Murray's Classic Drive, a journey into creativity in the contemporary world
19:00 -
Opera Night with Paul Herriott
From the Archives of The Metropolitan Opera, New York: Dvorak's Russalka
22:20 -
Vespertine with Ellen Cranitch
Let Ellen Cranitch be your guide on a night-time voyage, crossing time and space to share a selection of classical, jazz, roots and contemporary music.