Highland Radio LIVE - Highland LIVE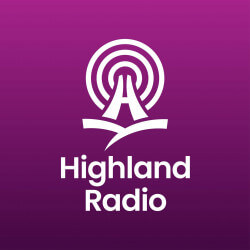 About Highland Radio
Listen online to the internet radio of Highland Radio live here, on IrishRadioLive!
Highland Radio's broadcast started in 1990, and operates as a local commercial radio from its Letterkenny studios. Highland Radio is one of the most listened to local radio stations in Co Donegal, and is also available in more parts of North West Ireland. Highland Radio is in the ownership of Orangold Ltd.
Highland Radio is the primary local information source for the radio listeners of North West Ireland, because Highland Radio broadcasts more often local news, current affairs, sports, travel, weather and has more speech in its programme structure than the mainly music-oriented radios. Nevertheless there is no shortage of good and varied music as the playlist is built generally from the last 30 years' best pop, but in decade oriented music programmes also the 60's, 70's, and 80's classic pop hits span the timescale of Highland Radio pop selection. But besides the pop, Highland Radio specialist music programmes shift the music diversification further, as Irish music, Irish- and American country, dance, R&B, indie and alternative genres expand the sound-kit.
Highland Radio refreshes the weekday mornings of North West Ireland from 6:30am to 9am with "The Naughty Alarm Clock with Lee Gooch". On Saturday the "Saturday Breakfast with Canice Wilson" from 7am to 10am wakes the listeners. The Sunday mornings of Highland Radio are in the spirit of religion, as from 8am to 12am "The Aidan Murphy Show" brings gospel music, religious service and uplifting inspirations to the listeners.

Highland Radio's music genre: pop, dance, country, Irish, indie, alternative, classic

Highland Radio availability: You can tune in with your traditional analogue radio in Donegal, and in parts of Derry and Tyrone, for the detailed FM allocation, check the Frequencies section below, and the Frequency Map. Highland Radio is available digitally by its online radio stream.

Highland Radio 's slogan: "Ireland's No.1 Local Station"
Do You see incomplete, outdated or incorrect information on our site? Do You think You know more about a radio? Help us, write to us on Facebook and in exchange we grant You advertisement free use of our site! :)
Contacts
Ardara

-

104.7

FM
Ballybofey, Co Donegal

-

94.7

FM
Castlefin

-

102.1

FM
Derry & East Co Donegal

-

103.3

FM
East Innishowen

-

104.7

FM
Glenties

-

104.7

FM
Gortahotk

-

102.6

FM
Lifford

-

102.1

FM
North Innishowen

-

104.5

FM
West Co Donegal

-

95.2

FM
Highland Radio Frequency map






















































More radios
Highland Radio comment box
This box is not read by the Radio's staff! So if You would like to ask for a song, or to send a word to the radio presenter, try the
Facebook Box
or
one of the contacts!
Recommended Radios
01:00 -
The '9 til Noon Show' Repeat
Repeat of the '9 to 12 Show' broadcast earlier in the day.
06:30 -
The Naughty Alarm Clock with Lee Gooch
Music based programme with up to the minute information on weather, travel and interesting items from the day's newspapers.
09:00 -
The 9 til Noon Show with Greg Hughes
Current affairs/magazine type morning chat show setting the news agenda for the region, providing a forum for listeners to express their thoughts and concerns includes professional advice slots, some music and requests
12:00 -
The John Breslin Show
Music based show featuring classic hits blended with new music; audience participation and interaction – request, dedications and interviews highlighting local events.
14:30 -
The Jive Time Show with David James
Requests and dedication driven music programme featuring American and Irish Country Music with some classic hits. Includes up to date information on weather and travel.
17:30 -
Power Hour Plus With Ivan Boreland
Chart R & B and Dance Music show with requests, dedications, competitions, traffic and travel and much more!
18:00 -
'Power Hour Plus Double Play' with Ivan Boreland
Chart and dance music show with requests and dedications via email and text.
20:00 -
The BIG Friday Session with Timmy & Tommy
Dance show with requests and dedications
22:00 -
Country Show with Tommy Rosney
Mixture of Irish and American Country music, with dedications and requests via text and email.