Clare FM - Clare FM NEWS - Clare FM LIVE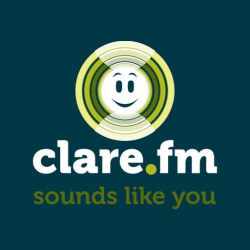 About Clare FM
Listen to the online radio of Clare FM live, which started its broadcast in 1989, as a local commercial radio in County Clare, operating from its Ennis studios. The station spreads its radio service around its home county, and in its surrounding areas, and by the digital distributions all over Ireland, and the world. The radio is in the ownership of Clare Community Radio Holdings.
Clare FM is a multiple award winner radio, in 2018 its documentary programme "Top of the World" received Bronze Award, and in 2019 "The Rescue" won the Gold Award at the New York Festivals International Radio Awards.
The broadcaster's primary target in entertainment is the adult age group, this way the radio's playlist is a colorful selection of the last 40 years' easy listening, more melodical pop music, known as "oldies", country and soft rock, but in smaller amounts the present pop's tuneful-lyrical pieces are also included. The schedule contains such talk programmes as the earlier mentioned documentaries and even the other speech related programmes bring discussions about real topics instead of the other youthful radios' purposeless chit-chats. But despite the serious investigative reports, the radio is in no shortage of cheerfulness, because fun and good humor is the essential of the station's morning show "The Colum McGrath Breakfast Show" on weekdays from 6:00am to 9:00am. The weekend mornings are improved on Saturday from 7:00am to 9:00am by "Saturday Breakfast" show with various hosts, and on Sunday from 8:00am to 10:00am "Sunday Morning with Eoin O'Neill" helps to reach the required mood to a happy weekend.

Clare FM slogan: "Sounds Like You"
Do You see incomplete, outdated or incorrect information on our site? Do You think You know more about the radio? Help us, write to us on Facebook and in exchange we'll reward You with advertisement free use! :)
Contacts - Phone number, SMS, E-mail, Facebook etc.
County Clare

-

96.4

FM
Ennistimon

-

95.2

FM
Killaloe

-

96.6

FM
Kilrush

-

95.5

FM
Lahinch

-

95.2

FM
South East County Clare

-

95.9

FM
The broadcast is available on the traditional analogue way, and also on the digital solutions like DAB Digital Radio and online radio stream.
Clare FM Frequency map
More radios
Clare FM comment box
This box is not read by the Radio's staff! So if You would like to ask for a song, or to send a word to the radio presenter, try the
Facebook Box
or one of the
contacts!
News about Clare FM
Nominees announced for the 2023 New York radio awards
RTÉ, Newstalk, Clare FM, and a number of independent production houses are shortlisted in the New York Festivals radio awards for 2023. There are 15 nominations altogether in Ireland, across categories such as documentaries, podcasts and entertainment...
More >>
radiotoday.ie - 23.03.2023
Clare FM - Clare FM NEWS - Clare FM LIVE
Clare FM has added two new homegrown presenters to its schedule. Quin native Brian McEvoy joins Clare FM from iRadio to present 'Out The Gap', weekdays from 2-6 pm. And Country singing sensation Clodagh Lawlor is joining for a weekend show. Upon joining Clare FM Brian said: "I'm absolutely delighted to be joining the team at Clare FM!...
More >>
irishradiolive.com - 11.04.2022
All 32 applications for BAI scheme granted cash
The BAI has given a total of €2.5m to 32 independent commercial radio stations across the country to share awareness and understanding of COVID-19. The special funding initiative was operated by the BAI under the BAI's Sound & Vision 4 Scheme, following a request from the Minister for Communications, Climate Action and Environment, Richard Bruton, TD. Funding recommendations range from €40,000 to €95,000. Successful projects include: ...
More >>
radiotoday.ie - 03.06.2020
Recommended radios


05:25
Texas - Say What You Want

05:22
Diana Ross - Touch Me In The Morning

05:18
Cian Ducrot - I'll Be Waiting

05:15
Maura O Connell - Living In These Times


05:08
Don Mescall - Trouble Is

05:05
Olly Murs - Heart Skips A Beat

05:00
Gladys Knight / The Pips - Midnight Train To Georgia

Get older playlist
06:00 -
The Colum McGrath Breakfast Show
09:00 -
Morning Focus with Alan Morrissey
14:00 -
Clare FM's Out the Gap with Brian McEvoy
18:00 -
Le Chéile with Pat Flynn
19:00 -
The West Wind with Therese McInerney
21:00 -
The Nightshift with Shay Searson
23:00 -
Morning Focus Repeat with Alan Morrissey