Clare FM - Clare FM NEWS - Clare FM LIVE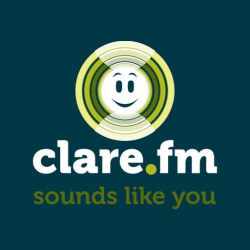 About Clare FM
Listen to the online radio of Clare FM live, which began its broadcast in 1989 as a local commercial radio station in County Clare. It operates from its studios in Ennis and is owned by Clare Community Radio Holdings. Clare FM is a multiple award-winning radio station. In 2018, its documentary programme "Top of the World" received a Bronze Award, and in 2019, "The Rescue" won the Gold Award at the New York Festivals International Radio Awards. The primary target audience for Clare FM's entertainment is the adult age group. As a result, the radio's playlist offers a colourful selection of easy-listening music spanning the last 40 years, including melodious pop music, often referred to as "oldies", country, and soft rock. In smaller amounts, the schedule also includes present pop tunes with tuneful and lyrical elements. The radio station features talk programmes, including the previously mentioned documentaries, and other speech-related programmes that engage in meaningful discussions instead of the aimless chit-chats commonly found on youth-oriented radios. Despite the inclusion of serious investigative reports, the radio station is not lacking in cheerfulness. Fun and good humour are essential elements of the station's morning show, "The Colum McGrath Breakfast Show," which airs on weekdays from 6am to 9am.

Clare FM slogan: "Sounds Like You"
Do you see incomplete, outdated or incorrect information on our site? Do you think You know more about the radio? Help us, write to us on Facebook and in exchange we'll reward you with advertisement free use! :)
Contacts - Phone number, SMS, E-mail, Facebook etc.
County Clare

-

96.4

FM
Ennistimon

-

95.2

FM
Killaloe

-

96.6

FM
Kilrush

-

95.5

FM
Lahinch

-

95.2

FM
South East County Clare

-

95.9

FM
Clare FM Frequency map
More radios
Clare FM comment box
This box is not read by the Radio's staff! So, if you would like to ask for a song, or send a word to the radio presenter, try one of the
contacts!
News about Clare FM
Do you like this radio? Recommend it to your friends!

18:53
Brendan Grace - Ringsend Rose

18:50
David Bowie - Ashes To Ashes

18:45
Garth Brooks - Standing Outside The Fire

18:39
Chris De Burgh - Missing You

18:34
The Pogues - A Rainy Night In Soho

18:30
Stockton's Wing - Beautiful Affair

18:27
George Michael / Aretha Franklin - I Knew You Were Waiting

18:17
Lindisfarne - Run for Home

18:13
Sade - Smooth Operator

18:08
Roxy Music - More Than This
Get older playlist
06:00 -
The Colum McGrath Breakfast Show
09:00 -
Morning Focus with Alan Morrissey
14:00 -
Out the Gap with Lauren Lynch
18:00 -
Monday – Thursday: Le Chéile with Pat Flynn
Friday: Sideline View with Derrick Lynch
19:00 -
Monday :: The West Wind with Joan Hanrahan
Tuesday :: The West Wind with Therese McInerney
Wednesday :: The West Wind with Paula Carroll
Thursday :: The West Wind with Ronan Burke
Friday :: The West Wind with Eoin O'Neill
21:00 -
The Love Zone with Shay Searson
23:00 -
Morning Focus Repeat with Alan Morrissey