Radio Kerry - Radio Kerry LIVE - Radio Kerry NEWS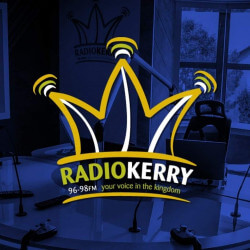 About Radio Kerry
Listen to the online radio of Radio Kerry live, which launched in 1990 as a commercial radio station operating from its Tralee and Killarney studios with analogue availability all over its home county and partly in Co Cork, Co Limerick, Co Tipperary and Co Clare. The station is in the ownership of Radio Kerry Holdings.
The station is a multiple award winner broadcaster, among others it won the PPI Local Radio Station of the Year five times between 2005 and 2016, and the radio's sports programme, the "Terrace Talk" won the Gold award for Sports Programme of the Year in 2014, and won the McNamee GAA Award for Best GAA Related Radio Programme in 2015. The radio's presenter JJ O'Shea who led the "Global Village" music show won the Silver award in the Specialist Music Broadcaster Category in 2014.
The broadcaster as the local radio of the county focuses its talk programmes on the locally relevant issues and current affairs, but also the national and international topics take place.
The radio's playlist brings generally pop music, but in specialist programmes more genres, like country (Irish and American), jazz and traditional Irish music diverse the musical palette.
The schedule delivers morning shows on 6 days of the week, so on weekdays from 7am to 9am the "Full Breakfast" ignites the day under the supervision of Andrew Morrissey and Elaine Kinsella, and on Saturday the "Weekend Wake Up" from 7am to 9am makes the oversleeping impossible.

Radio Kerry slogan: "Your Voice in the Kingdom"
Do You see incomplete, outdated or incorrect information on our site? Do You think You know more about the radio? Help us, write to us on Facebook and in exchange we'll reward You with advertisement free use! :)
Contacts - Phone number, SMS, E-mail, Facebook etc.
Central and East County Kerry

-

97.0

FM
Dingle

-

97.6

FM
Killarney

-

96.6

FM
North County Kerry

-

97.6

FM
South West County Kerry

-

96.2

FM
Tralee area, County Kerry

-

97.2

FM
You can tune in with your traditional analogue radio in the station's home county, and partly in the surrounding counties. The broadcast is also available via the internet as online radio stream.
Radio Kerry Frequency map






















































More radios
Radio Kerry comment box
This box is not read by the Radio's staff! So if You would like to ask for a song, or to send a word to the radio presenter, try the
Facebook Box
or one of the
contacts!
News about Radio Kerry
Radio Kerry launches online only festive station Radio Kerry Christmas
There's a new festive pop-up station available online this month from the team at Radio Kerry. Radio Kerry Christmas started streaming today and will remain online till January 5th 2023...
More >>
radiotoday.ie - 01.12.2022
Radio Kerry gives away €12,600 Radio Bingo jackpot
One listener has won a €12,600 jackpot in the Radio Kerry Radio Bingo game. Caroline O Halloran from Tralee won the cash which has been rolling over weekly since July 2021. It is the second Jackpot win since Radio Kerry introduced the new Radio Bingo game in May 2021. Speaking about her win Caroline, from Monavalley, said she has been playing the new Radio Kerry Radio Bingo game since...
More >>
radiotoday.ie - 27.01.2022
Radio Kerry's Christmas Jumper Day raises €22,621
Radio Kerry's annual county-wide Christmas Jumper Day fundraiser for St Vincent de Paul has raised €22,621, surpassing the €15,000 target for 2020. It was the seventh year of the fundraiser and brings the amount raised to date to over €117,000. Hundreds of people took part in Christmas Jumper Day right across the county, on Friday December 11th, in homes, places of work, schools, crèches, factories and shops. It was a very colourful event with jumpers of all shapes, colour and sizes, shop bought, borrowed and carefully handcrafted! ...
More >>
radiotoday.ie - 02.01.2021
Recommended radios
00:00 -
Music Through The Night
07:00 -
Kerry's Full Breakfast with Andrew Morrissey and Elaine Kinsella
09:00 -
Kerry Today with Jerry O'Sullivan
Kerry Today is Kerry's flagship current affairs programme and is presented by Jerry O'Sullivan. To contact the show email: kerrytoday@radiokerry.ie or call 066 7191220
11:00 -
The 11 to 1 Club with Francis Jones
The 11 to 1 Club with Francis Jones airs Monday to Friday 11am to 1pm! Tune in everyday for two hours of music and entertainment including: FRANS RADIO WORDS OF WISDOM THE 4 LETTER WORD MID-MORNING COFFEE BREAK SONG The 11 to 1 Club with Francis Jones is brought to you by
13:00 -
The One O'Clock News
13:30 -
Talkabout with Deirdre Walsh
Talkabout with Deirdre Walsh airs everyday from 1.30pm - 3pm Regular features include Ask the Dentist Ask the Podiatrist Citizens Advice Fashion Fix Interiors Advice Intro Matchmaking Dating Medical Matters Nutrition Advice Parenting Advice The Beauty Spot Vet Matters Talkabout is sponsored by:
15:00 -
The Afternoon Show with Brendan Fuller
18:00 -
Terrace Talk with Donal Barry
20:00 -
Tóg Sos with Mary Conroy
A programme of carefully selected recordings of traditional Irish music from the past & the present, both local & afar, with occasional inclusions from  other rich musics worldwide. Compiled & presented by Mary Conroy, every Monday from 8-10pm.
22:00 -
Kerry Today Highlights
23:00 -
Music Through The Night