Radio NOVA LIVE - NOVA Radio LIVE - NOVA 100 FM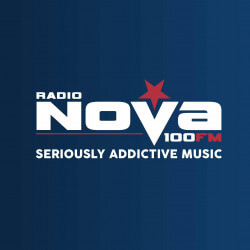 Nova - Server 1 - 128 Kbps
Nova Classic Rock - 128 Kbps
About Radio NOVA 100 FM
Listen online to the internet radio of Radio NOVA 100FM live here, on IrishRadioLive!
Radio NOVA 100FM is a Dublin based commercial radio, which started its broadcast in 2010 and available in the capital and in its commuter belt. Radio NOVA 100FM is in the ownership of Bay Broadcasting Ltd. - besides more shareholders.
Radio NOVA aspires to be the best source of rock and alternative music in Dublin and its surrounding areas, and to be the most addictive radio. In executing this remarkable objective, Radio NOVA airs a careful and exciting selection of the last forty years' guitar based music. The playlist of Nova is filled with a lot of never heard songs from the rock and alternative genres besides the known pieces, so the listeners get a really unique music line-up without the ordinary mainstream pop.
Radio NOVA broadcasts short news-traffic-weather blocks hourly during the day between 6am and midnight, and also talk-shows expand the programme structure.
The morning show "The Colm & Lucy Breakfast Show" which is presented by Colm Hayes and Lucy Kennedy, is the responsible for the vivacious wake-up at Radio NOVA on weekdays, from 6am to 10am.

Radio Nova's gender-specialized sister station Nova Classic Rock can be selected below the player!

Radio Nova music genre: rock, alternative

Radio Nova availability: The traditional analogue availability is optional in Dublin, and its surrounding areas. For the detailed FM allocation, check the Frequencies section below, and the Frequency Map! Radio Nova 100FM can be listened without territorial restrictions on the digital solutions. We recommend the online radio stream.

DigitalTV: Virgin Media: Channel 937

Radio NOVA 100 FM 's slogan: "Seriously Addictive Music Mix"
Contacts
Balbriggan, North Co Dublin

-

100.1

FM
County Dublin

-

100.3

FM
County Meath

-

100.3

FM
East Kildare

-

100.5

FM
East Wicklow

-

95.7

FM
North Wicklow

-

95.7

FM
Radio NOVA 100 FM Frequency map










































Radio NOVA 100 FM comment box
This box is not read by the Radio's staff! So if You would like to ask for a song, or to send a word to the radio presenter, try the
Facebook Box
or
one of the contacts!
News about Radio NOVA 100 FM
Former 2FM presenter Phil Cawley joins Radio Nova
Phil Cawley has joined the weekend presenter lineup at Radio Nova. Phil has been a main presenter on Today FM since its launch in 1997, having previously been with 2fm and various local stations including Wicklow's Easy 103. He will present Saturday afternoons on the station. Cawley said: "I love being on Nova! It's like hanging out in my best friends house playing our favorite tracks! Without the Beer!!!" ...
More >>
radiotoday.ie - 01.12.2019
Radio Nova wants to take over RTÉ's national DAB frequencies
Following the news that RTÉ is to close at least five DAB digital radio stations, Radio Nova has told RadioToday it will happily take over the frequencies. The public broadcaster has not announced any timescales, or if the national multiplex it runs will be closed as well. Radio Nova's Kevin Branigan says: "We have made no secret in recent years of our desire to bring Radio Nova national. We've made weighty submissions, backed up by strong independent research, to the BAI that shows we can bring more choice and diversity to listeners outside the Dublin commuter belt area and create new jobs in the radio industry...
More >>
radiotoday.ie - 07.11.2019
Colm & Lucy to broadcast the Breakfast Show from Japan
Colm Hayes & Lucy Kennedy are going to the Tokyo Stadium to support Ireland taking on New Zealand this weekend. They will be broadcasting live from Japan this Friday, Saturday and Monday to cover the game and bring the atmosphere back to listeners at home. Brent Pope and Pat Courtenay are also going big on the event with the weekly Rugby Live @ 5 show, which airs every Thursday from 5-7pm. Nova's Kevin Branigan said: "We're gone all out to bring our listeners coverage of the Rugby World Cup this year. We love...
More >>
radiotoday.ie - 16.10.2019
Do You like this radio? Recommend it to your friends!
Recommended Radios