RTÉ Pulse LIVE - RTÉ Pulse Radio LIVE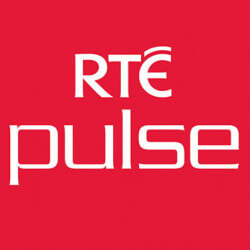 About RTÉ Pulse
Listen online to the internet radio of RTÉ Pulse live here, on Irish Radio Live!
RTÉ Pulse launched officially in 2008 and operates as an only digitally distributed radio station. RTÉ Pulse is the sister station of RTÉ 2FM, so its broadcast focuses on music, but as "Ireland's only national dance music station" tries to satisfy the electronic dance music lovers needs in the first place. RTÉ Pulse is in the ownership of Raidió Teilifís Éireann which is Ireland's Natinal Public Service Broadcaster.
RTÉ Pulse is the primary source of urban dance and rhythmic contemporary music styles for the younger generations, so its playlist rolls the best hip-hop, RnB, Drum'n'Bass, electronic and dance music 24/7, and explores the latest releases and the older hits of these genres. In its countless specialist shows RTÉ Pulse brings even more genres in the air like old skool, soulful, jazz, disco, house, garage, techno, deep tech, minimal, grime, electro, jungle and more.
RTÉ Pulse launches the weekdays (except Friday) from 9am to 12am with "Mo K in the Morning" breakfast show.

RTÉ Pulse genres: urban, dance, house, electronic, hip-hop, RnB, Drum'n'Bass, techno

RTÉ Pulse is not available on the traditional analogue radio way, but on the digital solutions, like online, DigitalTV and DAB. We recommend the online radio stream.

DigitalTV: Saorview: Channel 205
UPC: Channel 943

DAB Digital Radio: Mux 1 - RTÉ Pulse (Ireland)

RTÉ Pulse 's slogan: "Ireland's only national dance music station."
Do You see incomplete, outdated or incorrect information on our site? Do You think You know more about a radio? Help us, write to us on Facebook and in exchange we grant You advertisement free use of our site! :)
Contacts






















































More radios
RTÉ Pulse comment box
This box is not read by the Radio's staff! So if You would like to ask for a song, or to send a word to the radio presenter, try the
Facebook Box
or
one of the contacts!
News about RTÉ Pulse
DAB digital radio broadcasting ends in Ireland
Today marks the end of DAB digital radio transmissions in Ireland as RTÉ switches off its services on the platform. The broadcaster originally announced in 2019 it would also shut down the stations using DAB as their main outlet, but made a U-turn earlier this month. Now, RTÉ Gold, RTÉ 2XM, RTÉ Radio 1 Extra, RTÉ Pulse, and RTÉjr Radio continue online only, offering hope that they may one day return to DAB...
More >>
radiotoday.ie - 31.03.2021
RTE digital radio services to continue online
RTÉ is ending transmissions on DAB digital radio at the end of March, but its DAB-only services will now continue online. Previously, the broadcaster announced it would end DAB transmissions and close RTÉ Gold, RTÉ 2XM, RTÉ Radio 1 Extra, RTÉ Pulse, and RTÉjr Radio. But in a U-turn, these stations will survive due to feedback from listeners. RTÉ says its decision to cease DAB transmission was driven by three main factors – the fact that DAB was the least utilised platform in Ireland; that RTÉ is the only Irish broadcaster on the DAB system, and cost avoidance...
More >>
radiotoday.ie - 02.03.2021
Have You liked our Facebook page yet?
Recommended Radios
UMF Radio brings the Ultra Music Festival experience to your radio every single week. Live performances from the world's most in demand DJ's and producers!
Fusing styles and mixing influences W&W combine the uplifting and melodic elements of trance with the raw intensity of electro and progressiveness of house to create a unique sound
03:00 -
Judge Jules Global Warm Up
International DJ, Producer & Presenter. Jules has earned his place amongst the Dj aristocracy. He now brings his Global Warm Up Show to RTÉ Pulse every Tuesday night from 7-9pm.
05:00 -
Overnight on RTE Pulse
Keep the party rocking and let RTÉ Pulse take you through the night with the best in EDM.
07:00 -
Wake Up with RTE Pulse
Rise and shine with RTÉ Pulse. Energise!
From the originator of Trance, Chicane presents Sunsets, a monthly series of tracks that lead straight from the beach to the dancefloor. Chill to kill.
No waffle, No Waffle. Just the best commercial Dance, Hip Hop, RnB and Old Skool Classics - Non Stop!
16:00 -
Funk It Up with Colin Edwards
Live from our Cork Studios Funk It Up with Colin Edwards. Soulful uplifting House for your Saturday afternoon.
17:00 -
Floorfillers with Dave Cronin
Live from our Cork studios! Floorfillers with Dave Cronin. Upfront and main room.
Dave Treacy selects the most up to date Dance music for your Saturday night.
21:00 -
Gaff Party with DJ Sharpson
DJ Sharpson invites you to his scauldy 'Gaff Party', where he will be supplying you with the best Acid / Breaks / Techno / Drum & Bass. Mix submissions @sharpsonmusic