Classic Hits - Classic Hits 4FM - 4FM LIVE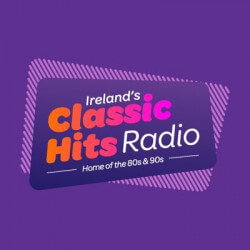 About Classic Hits
Listen online to the internet radio of Classic Hits here, on IrishRadioLive!
Classic Hits started its regionally available broadcast as commercial radio in 2009. The Dublin based radio's name in the beginning was "4FM", then expanded to "Classic Hits 4FM", and in 2018 arrived to its present form. Classic Hits is in the ownership of Choice Broadcasting Ltd.
Classic Hits' purpose in radio broadcasting is to provide airy entertainment to the adult age-group by building its music line-up from the best popular music of the last five decades. Thus Classic Hits' playlist starts from the 70s through the 80s, 90s, 00s to the present's best easy listening pop music, with decisive emphasis on the oldies, so songs after the millenium are rare, and if still being played, they will be the classic sounding ones made with real instruments. Besides the melodies, Classic Hits brings the mandatory news and weather info packages, but also talk-show programmes diversify the schedule.
Classic Hits revs up the weekday mornings from 6am to 10am, and the Saturday mornings from 9am to 11am with the "Wake Up Happy! with PJ & Jim in the Morning" in which PJ Gallagher and Jim McCabe guarantee the cloudless and joyful atmosphere.

Classic Hits music genre: pop

Classic Hits availability: Classic Hits' broadcast can be followed by the traditional analogue way in Greater Dublin, County Cork, County Limerick, County Clare and Galway on 94-105 FM - for the detailed FM allocation, check the Frequencies section below, and the Frequency map! Classic Hits is available without territorial restrictions on the digital solutions, we recommend the online radio stream.

DigitalTV: Virgin Media: Channel 936

Classic Hits 's slogan: "Ireland's Only Multi-City Radio Station"
Do You see incomplete, outdated or incorrect information on our site? Do You think You know more about a radio? Help us, write to us on Facebook and in exchange we grant You advertisement free use of our site! :)
Contacts
Bantry, County Cork

-

94.8

FM
Bray and Greystones, Wicklow

-

94.6

FM
Cobin & Monkstown, Co Cork

-

97.4

FM
Cork City and SE County Cork

-

94.8

FM
Dublin Region

-

94.9

FM
East Kildare and SE Meath

-

94.6

FM
Fermoy & Mitchelstown, Cork

-

95.2

FM
Galway County and City

-

104.9

FM
North County Cork

-

97.4

FM
West County Cork

-

95.4

FM
West County Galway

-

104.2

FM
West County Limerick

-

104.2

FM
West Ireland

-

104.6

FM
Youghal, County Cork

-

97.2

FM
Classic Hits Frequency map

















































Classic Hits comment box
This box is not read by the Radio's staff! So if You would like to ask for a song, or to send a word to the radio presenter, try the
Facebook Box
or
one of the contacts!
News about Classic Hits
Mitsubishi renews Classic Hits cars sponsorship
Classic Hits has continued its deal with Mitsubishi Motors Ireland to sponsor four of its promotional cars. The sponsorship agreement comprises of two Eclipse Cross' and two ASX's driven by the Mitsubishi Motors Classic Crew. Neville Murphy, Advertising Account Manager of Classic Hits said: "Classic Hits are delighted to have extended their partnership with Mitsubishi Motors Ireland Ltd. This is our third year working with Mitsubishi and the fleet has really bolstered the station and crews presence around the country. "The cars are stylish, economical and extremely safe. The team in Mitsubishi Ireland are a pleasure to deal with and their dealer network around the country, always welcoming." ...
More >>
radiotoday.ie - 10.09.2020
PJ & Jim move breakfast show on Classic Hits
Breakfast is moving later in the day for PJ & Jim on Classic Hits as they move their show to an 8am start. From this Monday morning PJ & Jim on Classic Hits will start two hours later than normal and be on-air till midday, Monday to Friday. Jim Mc Cabe told RadioToday: "We know our loyal listeners no longer have to put up with the morning commute to get to the desk anymore – some because they are working in the kitchen and some because their workplace has had to close up shop...
More >>
radiotoday.ie - 25.03.2020
Meghann Scully replaces Owen Larkin at Classic Hits
Changes to the Classic Hits weekend schedule are coming at the end of October as Owen Larkin departs. Meghann Scully will take over Owen's Saturday lunch time slot, from 11am till 2pm, in addition to her Sunday night Guaranteed Irish show. The former SPIN Hits presenter joined Classic Hits earlier this year. Owen has been part of the Classic Hits schedule for over six years, but will be leaving to take on a new full-time role at Downtown Radio in Belfast.
More >>
radiotoday.ie - 13.10.2019
Do You like this radio? Recommend it to your friends!
Recommended Radios