Dublin's Q102 LIVE - Dublin's Q102 Radio LIVE - Q102 Radio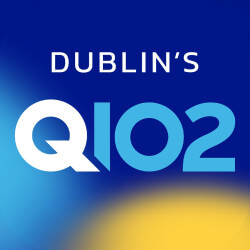 About Dublin's Q102
Listen online to the internet radio of Dublin's Q102 live here, on IrishRadioLive!
Dublin's Q102 launched in 2000 in its Dublin studios as Lite FM, and got its current name in its 2004 relaunch according to the listeners' expectations. Dublin's Q102 is a commercial local radio station with analogue availability in County Dublin, and is in the ownership of Wireless Group.
The programme structure and music repertoire of Dublin's Q102 favor the 35+ adult age group, so more meaningful conversations, and pop from the last millennium, feel good favourites, soft pop, and oldies build the wave set but also some newer and fresher pop diversify the playlist.
Like the other radios of Wireless Group, also Dublin's Q102 is dedicated in searching and supporting Irish musicians and bands under the "Select Irish" initiative. For more information about "Select Irish" check the official Dublin's Q102 site here:
https://www.q102.ie/on-air/select-irish/
Hourly news bulletins with local, national and international news, and local and national sports, travel, weather info-packages inform the listeners about the current affairs through the day.
On weekdays Q102's breakfast show the "Mornings with Liam Coburn & Venetia Quick" from 6am to 9am provides a vivid start for the capital county.
You can select the decade oriented sister station Q102 80s - and during the festive season temporarily the Christmas special sister station Q102 Christmas - below the player.
Dublin's Q102 music genre: pop
Dublin's Q102 is available on the traditional analogue way in County Dublin, for the detailed FM allocation, check the Frequencies section below, and the Frequency Map! Q102 is available digitally by its online radio stream.
Dublin's Q102 's slogan: "Feel Good Music"
Do You see incomplete, outdated or incorrect information on our site? Do You think You know more about a radio? Help us, write to us on Facebook and in exchange we grant You advertisement free use of our site! :)
Contacts






















































More radios
Dublin's Q102 comment box
This box is not read by the Radio's staff! So if You would like to ask for a song, or to send a word to the radio presenter, try the
Facebook Box
or
one of the contacts!
Do You like this radio? Recommend it to your friends!
Recommended Radios
Feel Good Music from Dublin's Feel Good Station
07:00 -
Breakfast with Aidan and Venetia
Your Feel-Good Breakfast
10:00 -
Feel-Good Workday with Andy Preston
Feel good music, great prizes, and laughs
15:00 -
Afternoon Drive with Liam Coburn
Your favourite daytime show
19:00 -
The Feel Good 80s Party with Debbie Allen