MidWest Radio - MidWest Radio LIVE - MidWest Radio Listen LIVE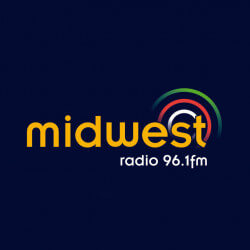 About MidWest Radio 96.1 FM
Listen to the online radio of MidWest Radio FM live, which has been operating since 1989, and broadcasts from its Ballyhaunis studios as a local radio station with analogue availability in the Connacht region. MidWest Radio is the most listened to local radio station in County Mayo, and is in the ownership of County Mayo Radio Ltd.
The radio serves the people of Connacht region with its adult age group oriented programme structure, in which more talk related segments quilt the melody filled parts. As a local service broadcaster, it brings news, sports, travel and weather info related to its editorial area, but also informs about national and international level headlines of news and sports. Chat, debates and phone-ins diversify the talk programmes further, when also the listeners can have their say in the discussed topics. Besides the secular affairs, the station also takes care of the spiritual nourisment of its listeners as on Sunday mornings, religious programmes take place.
The radio keeps a fine balance of talk and music in its schedule, and as the speech related part is nicely diversified with various topics, also the playlist is rich in music genres and styles too. Pop of the last 40 years, country and folk music is the main ingredient of the melody service, but some specialist programmes focus on traditional Irish music - folk, ballads, country - and American country, moreover even classic music and operas are broadcasted.
The station's schedule has morning shows for six days of the week. On weekdays from 7am to 8:45am the "David Cawley Breakfast Show" starts the mornings, and on the first day of the weekend the "Saturday Morning Breakfast Show" from 7am to 9am with Viv Brennan dispatches the weekend.

MidWest Radio 96.1 FM 's slogan: "More Than Just RADIO!"
Do You see incomplete, outdated or incorrect information on our site? Do You think You know more about a radio? Help us, write to us on Facebook and in exchange we grant You advertisement free use of our site! :)
Contacts
Ballina

-

95.5

FM
Castlebar

-

97.1

FM
County Mayo

-

96.1

FM
North West County Mayo

-

97.1

FM
Westport

-

95.4

FM
The broadcast is available on the traditional analogue way in County Mayo, and partly in the surrounding counties, and You can also listen to the radio via the internet by its online radio stream.
MidWest Radio 96.1 FM Frequency map






















































More radios
MidWest Radio 96.1 FM comment box
This box is not read by the Radio's staff! So if You would like to ask for a song, or to send a word to the radio presenter, try the
Facebook Box
or one of the
contacts!
News about MidWest Radio 96.1 FM
All 32 applications for BAI scheme granted cash
The BAI has given a total of €2.5m to 32 independent commercial radio stations across the country to share awareness and understanding of COVID-19. The special funding initiative was operated by the BAI under the BAI's Sound & Vision 4 Scheme, following a request from the Minister for Communications, Climate Action and Environment, Richard Bruton, TD. Funding recommendations range from €40,000 to €95,000. Successful projects include: ...
More >>
radiotoday.ie - 03.06.2020
JNLR: 81% of the population listen to radio every day
The latest radio listening figures show 81% of the population are tuning in every day, which translates into weekday figures of 3.2 million listeners. More than half tune into their local or regional station and 43% listen to a national station. Among the younger, 15 to 34-year market, 71% listen daily. Gabrielle Cummins, Chairperson of the Choose Radio group says access to radio on smart devices is helping radio stay at the top of its game: "The growth in streaming services has revitalised radio advertising and reiterated its relevance to the listener. Access to radio is now...
More >>
radiotoday.ie - 06.02.2020
Recommended Radios

06:52
Brendan Quinn - Jim Reeves Medley:He'll Have To Go/I Wont Forget You/I

06:49
Conquerors - One Night At A Time

06:48
Radiomation - Truly Wonderful


06:43
Charley Pride - Kiss An Angel Good Morning

06:39
Adrian Martin Murphy - The Running Kind

06:36
Bernadine Casserly - Tennesse Waltz 2018

06:33
Brendan Quinn - The Cowboy Rides Away

06:30
Gene Stuart - Old Rivers

06:28
Chantelle Padden - 9 to 5 2018
Get older songs
07:00 -
DAVID CAWLEY BREAKFAST SHOW
Its light entertainment all the way show a lively mix of music, humour, snippets, gossip, the latest news and sport headlines and a look at the morning papers.
08:45 -
MORNING EDITION NEWS & SPORT
Up to the minute news and views from around the region with our News Team including National and International News Headlines & Sport.
09:00 -
THE TOMMY MARREN SHOW
Two hours of chat and debate where the listeners air their point of view. Call 1850 506000
11:00 -
THE MID MORNING SHOW WITH PAUL CLAFFEY
Anything can happen and the unexpected usually does! This programme has it all from comedy sketches, live studio guests, surprise phonecalls and loads of giveaways.
13:00 -
LUNCHTIME NEWS & SPORT
Local News and Sport with live reports and interviews with the people making the news in Connacht from our reporters across the region.
13:30 -
CLASSIC HITS COUNTRY WITH CHRIS CARROLL
Non-stop Irish & American classic country music with a cutting edge.
15:00 -
THE LATE LATE LUNCHBOX WITH PADRAIC WALSH
The ideal mix of chart and classic hits where you can win anything from an exotic holiday to a state-of-the-art mobile phone and the latest CD & DVD releases.
17:30 -
EVENING EDITION & SPORT
A round up today's news and sport from around the region as well as the latest breaking news with live inserts and reaction to events across the West with Teresa O'Malley, Paula Donnellan chasing the stories.
18:01 -
CLASSIC EXPRESS WITH BRENDAN NUGENT
Its time for two hours of non-stop classic hits from the 80's and 90's and todays best Music with Brendan Nugent
20:00 -
NICE & EASY WITH Eamon Kelly
Eamonn combines Traditional, Folk, Country and Irish for two hours of perfect relaxation in the evening. The ideal way to wind down after a stressful day.
22:00 -
SONGBOOK WITH Dermot Smyth
Songbook is a programme that reflects the plethora of songs that arent played on the radio on a regular basis but should be.