SPIN South West LIVE - SPIN South West Radio LIVE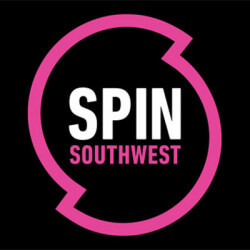 SPIN South West - 128 Kbps
SPIN Noughty Threesome - 64 Kbps
About SPIN South West
Listen online to the internet radio of SPIN South West here, on IrishRadioLive!
SPIN South West started its broadcast in 2007, and operates as a local commercial radio station covering several counties by analogue distribution like Limerick, Tipperary, Laois, Kerry and Clare. SPIN South West is in the ownership of Communicorp Group Ltd.
SPIN South West is the sister station of SPIN 1038, and so carries on the best characteristics of the Capital's SPIN radio. This way SPIN South West approaches the service in a youthful, dynamic way, which means the playlist is filled with the hottest-crispiest pop music all day spiced with easy, good mooded talk-shows. Besides the latest pop music, best hits of the last 20 years also appear, and the line-up is diversed further in more styles like urban and house, and at night the focus shifts to dance and techno.
SPIN South West informs its listeners hourly in its news bulletins, which bring local, national and international level news and sports, traffic and weather reports.
SPIN South West charges up the mornings on weekdays with the breakfast show "Fully Charged" from 7am to 11am supervised by Ed Roche and Valerie Wheeler.
SPIN South West has a spin-off station "SPINXTRA" which goes further in exploring urban music style!

You can select SPIN South West's sister stations "SPINXTRA" and "Noughty Threesome" below the player!

SPIN South West music genres: pop, house urban, indie, dance, techno

You can tune in your traditional analogue radio to SPIN South West - For the detailed FM allocation, check the Frequencies section below and the Frequency Map! You can follow SPIN South West on the internet, we recommend the online radio stream.

SPIN South West 's slogan: "Number One for Music and Entertainment"
Do You see incomplete, outdated or incorrect information on our site? Do You think You know more about a radio? Help us, write to us on Facebook and in exchange we grant You advertisement free use of our site! :)
Contacts
County Clare

-

102.7

FM
County Limerick

-

102.7

FM
Killaloe, Clare

-

102.5

FM
Killarney, Co Kerry

-

102.9

FM
Limerick City

-

103.0

FM
Mid Kerry

-

102.5

FM
North & Central Co Tipperary

-

94.7

FM
North Kerry

-

103.9

FM
North West County Clare

-

102.3

FM
West Kerry

-

102.9

FM
West Limerick

-

103.9

FM
SPIN South West Frequency map






















































More radios
SPIN South West comment box
This box is not read by the Radio's staff! So if You would like to ask for a song, or to send a word to the radio presenter, try the
Facebook Box
or
one of the contacts!
News about SPIN South West
SPIN 1038 and SPIN South West to network daytime shows
SPIN 1038 and SPIN South West are increasing their shared programmes to include weekday daytimes. Breakfast and Drive will remain local to each area while mid-morning and evenings will become shared across both regions. Localised news, sport, weather and travel will be retained all day, every-day, on each station. It's not know if there are any job losses as a result but RadioToday has contacted the group for clarification. The new shared schedule, across the SPIN South West Region and SPIN 1038 Dublin region will be:...
More >>
radiotoday.ie - 05.03.2020
Do You like this radio? Recommend it to your friends!
Recommended Radios

10:56
SPIN NOW with Louise

10:47
JASON DERULO - RIDIN' SOLO



10:31
MARIA KELLY - MARTHA

10:23
THE WEEKND - SAVE YOUR TEARS


10:16
IRISH WOMEN IN HARMONY - DREAMS

10:10
STAYSOLIDROCKY - PARTY GIRL

10:07
GLASS ANIMALS - HEAT WAVES

02:00 -
SPIN HITS AT NIGHT
08:00 -
Best of Fully Charged
10:00 -
SPIN NOW with Louise
12:00 -
POP RAIDIÓ with Niamh
15:00 -
SPIN HITS WITH TARA
19:00 -
SATURDAY NIGHT TAKEOVER