East Coast FM - East Coast Radio - East Coast Radio LIVE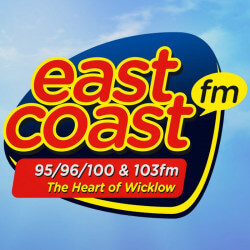 About East Coast FM
Listen to the online radio of East Coast FM live, which has been broadcasting since 1989 from its Bray studios. Through the decades had more names like BLB, Horizon FM - finally in 2002 reached its current form. The broadcast is distributed on the traditional way in Co Wicklow, and also reaches the surrounding counties partly. The station is in the ownership of East Coast Radio Ltd.
The radio guides its listeners through the day with locally relevant news, sports, traffic and weather updates. The presenters keep up the attachment between the radio and its listeners by the talks-shows and phone-ins all day, discussing locally important topics. In the team of East Coast FM presenters are nationally known, and acknowledged presenters who came from the biggest national radios of Ireland, like Jim O'Neill (RTÉ 2FM, Today FM) and Mike Duggan (RTÉ 2FM, Classic Hits).
The broadcaster's playlist is a youthful pop selection from the last 30 years, supplemented with the 80s and club classics in some decade and style oriented programmes.
The radio's schedule warms-up the weekdays with 2 morning shows. The cold-start begins from 6am to 10am as "Freshly Squeezed" with Rob G & Laura Wood ignites the air, after it "The Morning Show" with Declan Meehan from 10am to 12pm stabilizes the dynamics of the day. At the weekend there are one morning show from 6am to 8am, the "Saturday Breakfast" with Sean Ashmore prepares the listeners for a wonderful weekend. From Monday to Thursday between 8pm and 10pm the "Love Songs on the Coast" led by Nikki Hayes brings a heartwarming music selection.

East Coast FM 's slogan: "The Heart of Wicklow"
Do You see incomplete, outdated or incorrect information on our site? Do You think You know more about a radio? Help us, write to us on Facebook and in exchange we grant You advertisement free use of our site! :)
Contacts
Arklow

-

104.4

FM
Avoca

-

94.9

FM
Baltinglass

-

102.9

FM
Blessington

-

99.9

FM
Bray

-

96.2

FM
East County Wicklow

-

102.9

FM
Greystones

-

96.2

FM
North & East County Wicklow

-

96.2

FM
North West County Wicklow

-

99.9

FM
South East County Wicklow

-

94.9

FM
West Wicklow

-

102.9

FM
Wicklow

-

102.9

FM
The broadcast can be followed on the traditional analogue radio in Co Wicklow, and also by the digital solutions without territorial restrictions, we recommend the online radio stream.
East Coast FM Frequency map






















































More radios
East Coast FM comment box
This box is not read by the Radio's staff! So if You would like to ask for a song, or to send a word to the radio presenter, try the
Facebook Box
or
one of the contacts!
News about East Coast FM
Jason Collins takes over second show at East Coast FM
Jason Collins has become the presenter of a second weekend show at East Coast FM. Jason will now present More Music Weekend from 2 – 6pm on Sunday afternoons. He has taken over the slot from Ryan O'Neill, who has moved to Saturday afternoons. In 2018, Jason joined the Wicklow-based station as a cover presenter. He was appointed his first permanent programme at East Coast FM in February last year but soon began broadcasting from home in response to the COVID-19 pandemic...
More >>
radiotoday.ie - 23.03.2021
East Coast FM introduces weekly coronavirus show
A new Saturday morning show on East Coast FM called The Covid Call with Declan Meehan is starting this weekend. It'll aim to help vulnerable groups in society, such as cancer patients/survivors, the elderly & those with disabilities, for an hour at 9am. Declan will speak with the people directly affected, how they're coping, advice from medical professionals, how to access support services and tips on protecting their mental health during the crisis. This Show will raise awareness on how people can access online support, be it through Zoom meditation classes, psychological support, helplines open to them...
More >>
radiotoday.ie - 11.05.2020
Do You like this radio? Recommend it to your friends!

05:52
Dream - Things Can Only Get Better

05:49
Niall Horan - Black And White

05:46
Alesso & Katy Perry - When I'm Gone

05:43
Des'ree - You Gotta Be


05:36
Van Morrison - Bright Side Of The Road

05:32
Brian Kennedy & Ronan Keating - These Days


05:24
Hozier - Almost (Sweet Music)

05:20
Keywest - Something Beautiful
Get older songs
22:00 -
Love Songs on the COAST
Relaxing favourites with Traic O'Braonain