Galway Bay FM - Galway Bay FM News - Galway Bay FM LIVE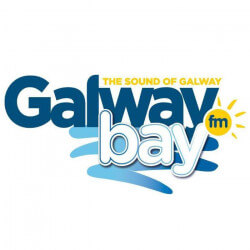 About Galway Bay FM
Listen to the online radio of Galway Bay FM live, which started its broadcast in 1989 as "Radio West". Radio West was the first legally operating local radio station in the county, in 1993 changed its name to its current form. The radio is in the ownership of Galway Bay FM Ltd.
The broadcaster as the number one local station of the county serves the people on analogue availability all over the county by several FM transmitters, and by its unrestricted digital distribution.
The radio smartly balances the music and talk ratio in its programme structure. Music lovers get their dose of tunes as well as the thought-hungry listeners get their verbal supply. The station's playlist generally brings pop music from the last 3 decades with the current hits, but in special decade oriented programmes also the 80s, and even the 50s and 60s are aired. Additionally in genre specialized programmes Irish country and American Country, moreover traditional Irish music lift the musical palette's saturation. The traditional Irish perspective comes under the scope not just by the music, but the radio also broadcasts some native Irish language programmes.
The broadcaster shoots hourly news bulletins with local and international news and sports, travel and weather forecasts, and the news take place also in some particular programmes, when the local, national and international affairs are debated, and in-depth analyses broadens the viewpoint. The other extensively investigated topic is the sports as especially sports related programmes discuss passionately the sports events of the county, besides Ireland's and the world's through commentaries, expert-reviews and analyses.
The radio wakes up its listeners, and energizes the weekday mornings with "Mollie in the Morning" from 6:30am to 9am.

Galway Bay FM 's slogan: "The Sound of Galway"
Do You see incomplete, outdated or incorrect information on our site? Do You think You know more about a radio? Help us, write to us on Facebook and in exchange we grant You advertisement free use of our site! :)
Contacts
Connemara, Co Galway

-

97.4

FM
County Galway

-

96.8

FM
East County Galway

-

97.4

FM
Galway City

-

95.8

FM
Gort, County Galway

-

97.2

FM
West County Galway

-

95.8

FM
The broadcast is available on the traditional analogue radio, and also on the digital ways like DAB Digital Radio, we recommend the online radio stream.
Galway Bay FM Frequency map






















































More radios
Galway Bay FM comment box
This box is not read by the Radio's staff! So if You would like to ask for a song, or to send a word to the radio presenter, try the
Facebook Box
or
one of the contacts!
Do You like this radio? Recommend it to your friends!
Recommended Radios
00:00 -
Non Stop Hits and Classics
Galway Bay FM playing you the best overnight music you'll anywhere on the radio.
07:30 -
The Half Door with Kevin Rohan
Your Sunday morning mix of Irish Traditional Music.
09:00 -
Jimmy Higgins Jukebox
The Big Band Show with Jimmy Higgins. Join Jimmy Higgins for some JukeBox Favourites every Sunday morning taking you back in time with some musical memories from the 50's and 60's!!!
12:00 -
The Feel Good Factor with Marc Roberts
The shows are exactly as the title suggests, feel-good music from the last three decades. Marc's secret ingredients are one-hit wonders, tv themes mixed with competitions & interviews. Marc's special blend of music makes the weekends even more enjoyable.
14:00 -
The Sunday Sport Show
Galway Bay FM'S Sunday Sports Show brings the best in local, national and international sport, with live commentaries, reports and features throughout the afternoon brought to you by a sports team passionate about local sport and those who take part in it.
20:00 -
Sunday Night Country with Marc Roberts
Marc's Show is a mix of both Irish & American country music, new releases & a weekly dip into the Billboard country charts in America.
Galway Bay FM playing you the best overnight music you'll anywhere on the radio.