Live 95 - Live 95FM - Limerick 95 FM LIVE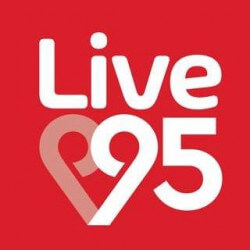 About Live 95
Listen to the online radio of Live 95 FM live, which has been on the air since 1997 when it replaced Radio Limerick 95. The station operates from its studios in Limerick and is owned by the Wireless Group. Live 95 FM's radio service aims to be the dynamic energy and information source for the people of County Limerick. The energy boost comes from the latest pop hits as well as the best from the last 30 years, accompanied by cheerful and entertaining talk shows throughout the day. Information is delivered through 95FM news bulletins that include news, sports, travel, and weather updates, all of which feature locally relevant news. In addition, other talk programmes discuss local topics, and phone-in segments make the broadcasts more interactive. The radio brightens up weekday mornings in County Limerick with "The Breakfast Show with Mark Whelan & Catriona Tierney", airing from 6am to 9am.

Live 95 slogan: "Limerick's Best Music Mix"
Do you see incomplete, outdated or incorrect information on our site? Do you think You know more about the radio? Help us, write to us on Facebook and in exchange we'll reward you with advertisement free use! :)
Contacts - Phone number, SMS, E-mail, Facebook etc.
More radios
Live 95 comment box
This box is not read by the Radio's staff! So, if you would like to ask for a song, or send a word to the radio presenter, try one of the
contacts!
News about Live 95
Local radio stations team up with talkSPORT for cricket coverage
talkSPORT in London is teaming up with local radio stations in Ireland to offer coverage of Cricket Ireland's home fixtures. FM104, Q102, 96FM, C103, Live 95 and LMFM (plus U105 in Belfast) will benefit from the new partnership with sister station talkSPORT to air matches against India, New Zealand and South Africa...
More >>
radiotoday.ie - 23.05.2022
JNLR: 81% of the population listen to radio every day
The latest radio listening figures show 81% of the population are tuning in every day, which translates into weekday figures of 3.2 million listeners. More than half tune into their local or regional station and 43% listen to a national station. Among the younger, 15 to 34-year market, 71% listen daily. Gabrielle Cummins, Chairperson of the Choose Radio group says access to radio on smart devices is helping radio stay at the top of its game: "The growth in streaming services has revitalised radio advertising and reiterated its relevance to the listener. Access to radio is now...
More >>
radiotoday.ie - 06.02.2020

19:23
Faithless - Insomnia

19:19
Coolio - Gangstas Paradise

19:15
Edwyn Collins - A Girl Like You

19:12
Ava Max - Sweet But Psycho

19:09
Savage Garden - To The Moon & Back

19:05
Dexy's Midnight Runners - Come On Eileen

18:47
Picture This - Addicted To You

18:44
Michael Buble - Baby Please Come Home For Christmas

18:41
Gavin James - White Noise

18:38
Pink - What About Us
Get older playlist
00:00 -
Limerick Today - Repeat
Pure music to get you through the night
06:00 -
The Breakfast Show with Mark Whelan & Catriona Tierney
Join Mark & Catriona for breakfast
09:00 -
Limerick Today with Joe Nash
12:00 -
Afternoons with JP Dillon
16:00 -
Live Drive with Gary Connor
20:00 -
Live95's Hit Mix with Brian McEvoy
The biggest hits live here