RTÉ 2FM - RTÉ 2FM LIVE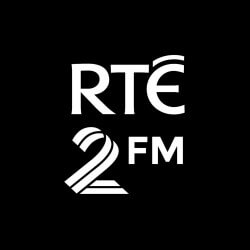 RTÉ 2FM - Server 1 - 160 Kbps
RTÉ 2FM - Server 2 - 160 Kbps
About RTÉ 2FM
Listen online to the internet radio of RTÉ 2FM live here, on IrishRadioLive!
RTÉ 2FM launched its nationally available broadcast in 1979, and considered as the second national radio service of Ireland - right after its parent station RTÉ Radio 1. RTÉ 2FM is in the ownership of Raidió Teilifís Éireann which is Ireland's National Public Service Broadcaster.
RTÉ 2FM's mission is to fill the role of its parent station considering the younger age groups. To achive this noble goal, RTÉ 2FM operates with a more youthful approach in broadcasting, so the talk-shows discuss easier topics, while the music line-up also brings more dynamical pop songs along with the freshest-crispiest hits of the current waves.
The enthusiasm for the younger generations excellently shows itself in 2FM's ars poetica, because RTÉ 2FM considering itself as the national platform for new Irish talent, great festivals and live music.
RTÉ 2FM does not wake without a morning show on any day of the week, "2FM Breakfast with Doireann and Eoghan" energizes the waves on weekday mornings from 6am to 9am under the command of Doireann Garrihy and Eoghan McDermott. The 'Weekend Breakfast" happy atmosphere on Saturday and Sunday from 7am to 9am is supervised by Aifric O'Connell.
Every Friday between 8pm and 11pm "The Official Chart on 2FM with Bláthnaid Treacy" takes place with a special music selection of the 30 hottest-biggest tunes.

RTÉ 2FM's music genre: pop

RTÉ 2FM's availability: You can tune in to 2FM with your traditional analogue radio on 90.4-92.4 FM, and on 97.0 FM (Northeast) - for the detailed FM allocation, check the Frequencies section (below) and the Frequency Map - or You can choose one of the digital solutions to listen in, we recommend the online radio stream.

DAB Digital Radio: RTÉ 2FM
Virgin Media: Channel 902
Sky: Channel 0164
Saorview: Channel 202

RTÉ 2FM 's slogan: Sound Of The Nation
Contacts
Armagh City

-

91.1

FM
Athlone

-

91.5

FM
Ballybofey, Donegal

-

91.9

FM
Bantry, SW County Cork

-

90.9

FM
Casla, Galway

-

90.6

FM
Central Mayo

-

91.5

FM
Cork City

-

92.0

FM
Cork City and SE County Cork

-

91.4

FM
County Dublin

-

90.7

FM
County Monaghan

-

91.1

FM
Dingle Peninsula, Kerry

-

91.3

FM
Dunquin, Kerry

-

90.9

FM
East Donegal and Derry area

-

91.4

FM
East Ireland

-

91.3

FM
Falcarragh, Donegal

-

91.0

FM
Fermoy, Cork

-

91.6

FM
Kinsale, Cork

-

91.2

FM
Lehinch, Co Clare

-

91.9

FM
Limerick City

-

91.6

FM
Mid Kerry

-

90.6

FM
Mid Tipperary

-

91.2

FM
Mitchelstown, Cork

-

90.8

FM
NE Donegal & N Northern Ireland

-

90.5

FM
NE Ireland & Central N Ireland

-

97.0

FM
North County Tipperary

-

92.4

FM
North Donegal

-

92.0

FM
North East Wicklow

-

91.7

FM
North Innishowen

-

91.1

FM
North Kerry

-

91.4

FM
North West Ireland

-

90.4

FM
North West Mayo

-

92.1

FM
SE Tipperary & N Waterford

-

90.5

FM
South East County Cork

-

90.4

FM
South East Ireland

-

91.8

FM
South West County Cork

-

90.5

FM
South West Ireland

-

92.2

FM
Waterford City

-

90.5

FM
West County Galway

-

91.7

FM
West County Waterford

-

90.7

FM
West Donegal

-

91.8

FM
West Ireland

-

91.0

FM
West Kerry

-

91.7

FM
RTÉ 2FM Frequency map


































RTÉ 2FM comment box
This box is not read by the Radio's staff! So if You would like to ask for a song, or to send a word to the radio presenter, try the
Facebook Box
or
one of the contacts!
News about RTÉ 2FM
McDonald's to sponsor RTÉ 2FM's Sound of Christmas 2019
Larry Gogan will officially launch The Sound of Christmas 2019 on Breakfast with Doireann and Eogan at 2FM this morning, sponsored by McDonald's. Brokered by Core Sponsorship, the four-week Christmas music sponsorship will feature a variety of McDonald's sponsored credited stings which will lead into every Christmas song. Right up to Christmas Eve McDonald's will feature 468 stings across the entire 2FM Christmas music schedule. Tara Farrell, Radio & Audio Sponsorship Manager, RTÉ Media Sales commented: "It is a rare occasion we get to sign up the same sponsor twice in six months but 2019 has proven to be an exceptional sponsorship year for 2FM...
More >>
radiotoday.ie - 02.12.2019
Former 2FM presenter Phil Cawley joins Radio Nova
Phil Cawley has joined the weekend presenter lineup at Radio Nova. Phil has been a main presenter on Today FM since its launch in 1997, having previously been with 2fm and various local stations including Wicklow's Easy 103. He will present Saturday afternoons on the station. Cawley said: "I love being on Nova! It's like hanging out in my best friends house playing our favorite tracks! Without the Beer!!!" ...
More >>
radiotoday.ie - 01.12.2019
Do You like this radio? Recommend it to your friends!