RTÉ 2FM - RTÉ 2FM LIVE - 2FM Listen Live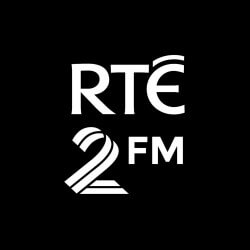 About RTÉ 2FM
Listen online to the internet radio of RTÉ 2FM live here, on IrishRadioLive!
RTÉ 2FM launched its nationally available broadcast in 1979, and considered as the second national radio service of Ireland - right after its parent station RTÉ Radio 1. RTÉ 2FM is in the ownership of Raidió Teilifís Éireann which is Ireland's National Public Service Broadcaster.
RTÉ 2FM's mission is to fill the role of its parent station considering the younger age groups. To achive this noble goal, RTÉ 2FM operates with a more youthful approach in broadcasting, so the talk-shows discuss easier topics, while the music line-up also brings more dynamic pop songs along with the freshest-crispiest hits of the current waves.
The enthusiasm for the younger generations excellently shows itself in 2FM's ars poetica, because RTÉ 2FM considering itself as the national platform for new Irish talent, great festivals and live music.
RTÉ 2FM does not wake without a morning show on any day of the week, "2FM Breakfast with Doireann and Eoghan" energizes the waves on weekday mornings from 6am to 9am under the command of Doireann Garrihy and Eoghan McDermott. The 'Weekend Breakfast" happy atmosphere on Saturday and Sunday from 7am to 9am is supervised by Aifric O'Connell.
Every Friday between 8pm and 11pm "The Official Chart on 2FM with Bláthnaid Treacy" takes place with a special music selection of the 30 hottest-biggest tunes.

RTÉ 2FM's music genre: pop

RTÉ 2FM's availability: You can tune in to 2FM with your traditional analogue radio on 90.4-92.4 FM, and on 97.0 FM (Northeast) - for the detailed FM allocation, check the Frequencies section (below) and the Frequency Map - or You can choose one of the digital solutions to listen in, we recommend the online radio stream.

DAB Digital Radio: RTÉ 2FM
Virgin Media: Channel 902
Sky: Channel 0164
Saorview: Channel 202

RTÉ 2FM 's slogan: Sound Of The Nation
Do You see incomplete, outdated or incorrect information on our site? Do You think You know more about a radio? Help us, write to us on Facebook and in exchange we grant You advertisement free use of our site! :)
Contacts
Armagh City

-

91.1

FM
Athlone

-

91.5

FM
Ballybofey, Donegal

-

91.9

FM
Bantry, SW County Cork

-

90.9

FM
Casla, Galway

-

90.6

FM
Central Mayo

-

91.5

FM
Cork City

-

92.0

FM
Cork City and SE County Cork

-

91.4

FM
County Dublin

-

90.7

FM
County Monaghan

-

91.1

FM
Dingle Peninsula, Kerry

-

91.3

FM
Dunquin, Kerry

-

90.9

FM
East Donegal and Derry area

-

91.4

FM
East Ireland

-

91.3

FM
Falcarragh, Donegal

-

91.0

FM
Fermoy, Cork

-

91.6

FM
Kinsale, Cork

-

91.2

FM
Lehinch, Co Clare

-

91.9

FM
Limerick City

-

91.6

FM
Mid Kerry

-

90.6

FM
Mid Tipperary

-

91.2

FM
Mitchelstown, Cork

-

90.8

FM
NE Donegal & N Northern Ireland

-

90.5

FM
NE Ireland & Central N Ireland

-

97.0

FM
North County Tipperary

-

92.4

FM
North Donegal

-

92.0

FM
North East Wicklow

-

91.7

FM
North Innishowen

-

91.1

FM
North Kerry

-

91.4

FM
North West Ireland

-

90.4

FM
North West Mayo

-

92.1

FM
SE Tipperary & N Waterford

-

90.5

FM
South East County Cork

-

90.4

FM
South East Ireland

-

91.8

FM
South West County Cork

-

90.5

FM
South West Ireland

-

92.2

FM
Waterford City

-

90.5

FM
West County Galway

-

91.7

FM
West County Waterford

-

90.7

FM
West Donegal

-

91.8

FM
West Ireland

-

91.0

FM
West Kerry

-

91.7

FM
RTÉ 2FM Frequency map






















































More radios
RTÉ 2FM comment box
This box is not read by the Radio's staff! So if You would like to ask for a song, or to send a word to the radio presenter, try the
Facebook Box
or
one of the contacts!
News about RTÉ 2FM
Do You like this radio? Recommend it to your friends!
Kick off your weekend with a dose of Rock/Indie and Dance with Cormac Battle from 10p.m. every Friday on 2fm
02:00 -
The Late Night Sessions
2fm's weekly dance sequence.
07:00 -
Weekend Breakfast with Carl and Aifric
Presented by Carl Mullan and Aifric O'Connell. Great music and entertainment each weekend.
09:00 -
Louise McSharry on 2FM
Louise McSharry with great music and lots of entertainment throughout the morning.
Presented by Chris Greene and Ciara King
Dave Fanning brings you a mix of interviews, newspaper reviews, movies and music every Saturday and Sunday on 2fm.
Stephen Byrne - great music, entertainment news and sports updates.
19:00 -
The Electric Disco with Jenny Greene
The soundtrack to Saturday night. Jenny bangs out classic dance anthems.
Mo K kick-starts your weekend with the biggest hip hop and dance anthems you won't find anywhere else! Get involved @djmokay and mo@rte.ie.
23:00 -
The Spring Sessions
Mr Spring with Ireland's most upfront dance show