RTÉ Gold LIVE - RTÉ Gold Radio LIVE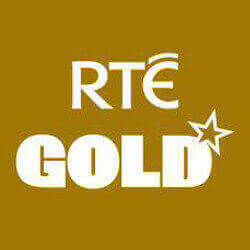 About RTÉ Gold
Listen online to the internet radio of RTÉ Gold live here, on IrishRadioLive!
RTÉ Gold officially launced in 2008 together with RTÉ's other only digitally distributed sister stations, in the ownership of Raidió Teilifís Éireann which is Ireland's National Public Service Broadcaster.
RTÉ Gold is the Greatest Hits responsible station in RTÉ's radio fleet, however it gives a little more than the general Greatest Hits radios, because its time-span is not restricted to the common Greatest Hits radio's 70s and 80s selection, but goes further back and forward in time. This way RTÉ Gold streches its musical perspective to 6 decades, so 50s, 60s, 70s, 80s, 90s and even the 00s are broadcasted. At first glance it could be strange, that we speak about the greatest hits of the 90s and 00s, but as time passes, the bests of these decades' songs have to be marked as "Greatest Hits" for the next generations. Whether RTÉ Gold will be right or not in this marking, we don't know yet, but it is sure that RTÉ Gold undertakes this mission enthusiastically, and in the future we can decide about it was successful or not.
RTÉ Gold gilds the weekday mornings with 6 decades' best pop music under the careful supervison of Will Leahy from 7am to 10am in "Gold Breakfast with Will Leahy".

RTÉ Gold's music genre: pop

RTÉ Gold is distributed digitally, so online, DAB and DigitalTV solutions are optionable to follow its broadcast. We recommend the online radio stream.

DAB Digital Radio: RTÉ Gold (Ireland)
DigitalTV: Virgin Media: Channel 941
Saorview: Channel 208

RTÉ Gold 's slogan: "The Greatest Hits of All Time"
Do You see incomplete, outdated or incorrect information on our site? Do You think You know more about a radio? Help us, write to us on Facebook and in exchange we grant You advertisement free use of our site! :)
Contacts

















































RTÉ Gold comment box
This box is not read by the Radio's staff! So if You would like to ask for a song, or to send a word to the radio presenter, try the
Facebook Box
or
one of the contacts!
News about RTÉ Gold
Simultaneous play of You'll Never Walk Alone planned
You'll Never Walk Alone will be played out simultaneously on a number of radio stations this Friday morning. NPO 3FM presenter Sander Hoogendoorn had the idea to bring all radio stations in the Netherlands together during the corona crisis, but now RTE Gold and dozens more across Europe are joining in. It'll happen at 8.45am in the Netherlands, which will be 7.45am in Ireland. You'll be able to hear it on Gold Breakfast with Will Leahy on RTÉ Gold, BBC Radio 1 and Radio 2 in the UK, and many more around the mainland...
More >>
radiotoday.ie - 19.03.2020
RTÉ to close its DAB digital radio stations in major strategy change
RTÉ is to close its digital radio stations including RTÉ 2XM, RTÉ Pulse, RTÉ Gold, RTÉjr Radio & RTÉ Radio 1 Extra as part of a major revised strategy to address key issues facing the organisation. It says costs will need to be reduced by €60 million over three years (2020-2023), in addition to the reduction of 23% delivered by RTÉ between 2008 and 2018. RTÉ says fees paid to its top contracted on-air presenters will also need to be cut by 15%, in addition to the 30+% cuts as agreed in previous years. Over 200 people will need to leave in 2020...
More >>
radiotoday.ie - 07.11.2019
Have You liked our Facebook page yet?
Recommended Radios