RTE Gold - RTE Gold LIVE - RTE Gold Radio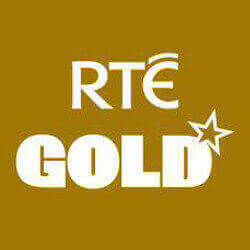 About RTÉ Gold
Listen to the online radio of RTÉ Gold live, which officially launced in 2008 together with RTÉ's other only digitally distributed sister stations, in the ownership of Raidió Teilifís Éireann which is Ireland's National Public Service Broadcaster.
RTÉ Gold is the greatest hits responsible station in RTÉ's radio fleet, however it gives a little more than the general Greatest Hits radios, because its time-span is not restricted to the common greatest hits radio's 70s and 80s selection, but goes further back and forward in time. This way the radio streches its musical perspective to 6 decades, so 50s, 60s, 70s, 80s, 90s and even the 00s are broadcasted. At first glance it could be strange, that we speak about the greatest hits of the 90s and 00s, but as time passes, the bests of these decades' songs have to be marked as "greatest hits" for the next generations. Whether the broadcaster will be right or not in this endeavor, we don't know yet, but it is sure that the station undertakes this mission enthusiastically, and in the future we can decide if it was successful or not.
The radio gilds the weekday mornings with 6 decades' best pop music under the careful supervison of Will Leahy from 7am to 10am in "Gold Breakfast with Will Leahy", which is followed by the special selection of Rick Oshea from 10am to 13pm.

RTÉ Gold 's slogan: "The Greatest Hits of All Time"
Do You see incomplete, outdated or incorrect information on our site? Do You think You know more about a radio? Help us, write to us on Facebook and in exchange we grant You advertisement free use of our site! :)
Contacts
The broadcast is available only on the digital ways like DigitalTV, and as internet radio on RTÉ Radio player - we recommend the online radio stream.
DigitalTV: Virgin Media: Channel 941, Saorview: Channel 208, Saorsat: Channel 29, eirTV: Channel 941 and Vodafone TV.





















































Hits Bits - Ireland's Classic Hits

More radios
RTÉ Gold comment box
This box is not read by the Radio's staff! So if You would like to ask for a song, or to send a word to the radio presenter, try the
Facebook Box
or
one of the contacts!
News about RTÉ Gold
Playing the greatest hits of all time.
RTÉ Gold is a play list service offering a carefully chosen selection of classic hits as well as album tracks from top selling artists spanning the 50s to the 00s gold@rte.ie
09:00 -
The Gold Lounge with Rick O'Shea
An hour of well and slightly less well-known jazz, swing, lounge, big band and golden era vocal classics with Rick O'Shea to set up your Sunday.
10:00 -
Irelands Biggest Jukebox
The greatest hits of all time on the No 1 Music show on Sunday. Presented by Aidan Leonard gold@rte.ie
Two hours of classic tunes, presented by Al Dunne.
The greatest hits of all time
Presented by Eric Moore gold@rte.ie
18:00 -
20th Century Gold
Music from the 50s, 60s, 70s, 80s and 90s.