Christmas FM - Xmas FM - Christmas FM 2019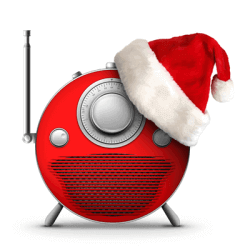 Christmas FM Ireland - 128 Kbps
About Christmas FM
Listen online to the internet radio of Christmas FM live here, on IrishRadioLive!
Christmas FM started in 2008 with only 1 month per year available analogue broadcast in the Christmas season of the year. Today Christmas FM is Europe's only all year broadcaster of Christmas music. While the analogue broadcasting stayed in the 30 days frame from 28 November to 27 December yearly, available only in Ireland, the digital broadcasting become available all over the year, all over the world. Christmas FM has more online available streams, like Christmas FM UK, Christmas FM Classical, Christmas FM Classics, and Christmas FM North Pole. Christmas FM UK besides the online stream has DAB Digital Radio availability across the UK.
This composite pack of Christmas radios satisfies every possible desire in the aspect of Christmas songs, so by Christmas FM, there are no more obstacles in enjoying the best heart-warming feeling of Christmas' Eve in any time of the year, in any place of the world.
Christmas FM Ireland (only from 28 Nov to 27 Dec), Christmas FM UK, and Christmas FM North Pole broadcast mixed line-up of christmas songs, while Christmas FM Classical broadcasts classical Christmas songs, instrumental Christmas music and Christmas carols, and Christmas FM Classics plays classic Christmas music, and Christmas crooners.

You can choose each station of Christmas FM below the player!

Christmas FM music style: christmas songs and instrumental christmas music

Christmas FM availability: You can tune in your traditional analogue radio to Christmas FM Ireland only for thirty days (28 Nov- 27 Dec) each year in Ireland. But Christmas FM's digital broadcasts are available online all year all over the world.
Christmas FM Ireland's frequencies are available from 28 Nov to 27 Dec in Ireland, for the detailed FM allocation check the Frequencies section below, and the Frequency Map!

DigitalTV: Christmas FM Ireland, from 28 Nov to 27 Dec - Virgin Media: Channel 900

Christmas FM 's slogan: "Bringing You the Magic of Christmas"
Contacts
Clare

-

105.2

FM
Cork City

-

106.7

FM
Dublin & Co Dublin

-

105.2

FM
Galway City Ireland

-

87.7

FM
Kildare

-

88.1

FM
Kilkenny

-

104.3

FM
Killarney

-

105.0

FM
Letterkenny

-

105.7

FM
Limerick City

-

105.5

FM
North East Ireland

-

99.4

FM
North Midlands

-

101.6

FM
North Wicklow

-

99.5

FM
South East Ireland

-

103.8

FM
South Wicklow

-

106.6

FM
Tralee

-

105.0

FM
Christmas FM Frequency map


































Christmas FM comment box
This box is not read by the Radio's staff! So if You would like to ask for a song, or to send a word to the radio presenter, try the
Facebook Box
or
one of the contacts!
News about Christmas FM
Christmas FM returns across the country for 2019 on FM
Annual fund-raising festive radio service Christmas FM is back on-air for 2019. The station, broadcasting from its usual space inside the Ballsbridge Hotel in Dublin, launched at 1pm Thursday afternoon. The station has partnered with Barretstown for this year, as it aims to raise over €250,000, which will go directly towards Barretstown's mission of rebuilding people's lives through therapeutic programmes. The primary sponsors of the station are Coca Cola, Cadbury and An Post...
More >>
radiotoday.ie - 28.11.2019
Do You like this radio? Recommend it to your friends!
Recommended Radios