98FM LIVE - Dublin's 98FM LIVE - 98FM Radio LIVE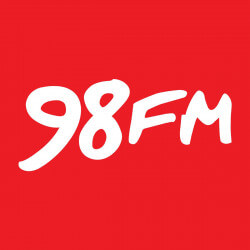 About 98FM
Listen online to the internet radio of 98FM live here, on IrishRadioLive!
98FM lauched in 1989 and operates as a commercial radio from its Dublin studios. 98FM is in the ownership of Communicorp Group Ltd.
98FM is a multi award winner radio station with many PPI and IMRO Radio Awards. The radio itself, its programmes and its presenters have been awarded in the last fifteen years. 98FM won the "Music Station of the Year" award four times - in 2008 and 2013 from PPI, and in 2018 and 2019 from IMRO.
98FM's mission is to maintain the sparking lifestyle of the capital through the air by its energetic pop music compilation and by its vivacious talk-shows. 98FM's playlist channels the hottest-crispiest pop hits along with the last years' biggest hits while the schedule's talk-related part keeps up the dynamics with happy talk-shows, easy chit-chats.
98FM launches the Dublin mornings on weekdays with "98FM's Big Breakfast with Rebecca & Brendan" from 7am to 10am.

98FM's decade oriented sister station - "Throwback" which's slogan is "Non-Stop Nineties & Noughties" with a vivid music selection from the 90's and 00's best pop is available below the player!

98FM's music genre: pop

98FM is available on the traditional analogue way in and around Dublin on 98.1FM and 97.4FM. Digital alternatives like the online distribution and DigitalTV are also optionable, we recommend the online radio stream.

DigitalTV: Virgin Media: Channel 931

98FM 's slogan: "The Sound of the City"
Do You see incomplete, outdated or incorrect information on our site? Do You think You know more about a radio? Help us, write to us on Facebook and in exchange we grant You advertisement free use of our site! :)
Contacts






















































More radios
98FM comment box
This box is not read by the Radio's staff! So if You would like to ask for a song, or to send a word to the radio presenter, try the
Facebook Box
or
one of the contacts!
News about 98FM
Rebecca Shekleton and Brendan O'Loughlin for 98FM breakfast
98FM is putting Rebecca Shekleton and Brendan O'Loughlin its Big Breakfast from March 16th. They replace Cooper and Luke who left last week. Best pals Rebecca and Brendan are two of the creators and hosts of superfan podcast, Shrine of Duty, an homage to the UK Drama Series, Line of Duty. The pair appeared on national television last year, to meet 'Line of Duty' star Adrian Dunbar who congratulated them on the success of their podcast...
More >>
radiotoday.ie - 04.03.2020
Cooper and Luke disappear from 98FM's Big Breakfast
Changes are happening at 98FM as Luke O'Faolain, one half of the Cooper and Luke breakfast show, confirms he has left the station. In a social post, Luke says last Friday was his last show and that he is absolutely gutted he didn't get to say goodbye to listeners on-air. Co-host Steven Cooper was also absent from the show this morning, but he hasn't posted anything online regarding being off. Evening show "The Fix' presenter Ciaran O'Connor covered Breakfast this morning...
More >>
radiotoday.ie - 02.03.2020
Communicorp's Jessica Maciel gets show on BBC Radio 1
Communicorp presenter/producer Jessica Maciel is one of 35 people to be selected to host a radio show on BBC Radio 1 in the UK over the festive period. The station asked for demos from anyone with radio experience back in October, and received over a thousand applicants. Jessica, who joined the Communicorp Media in 2015 is set to cover Scott Mills' weekday slot of 1-4PM from December 29th- 31st. Speaking about the news, Jessica Maciel said: "To be getting the opportunity to get behind a BBC Radio 1 mic feels like a dream and I can't wait to have the craic with the team and listeners! I really can't thank those within Communicorp who have helped and mentored me over the past few years. As a result I have been able to take this incredible step in my career." ...
More >>
radiotoday.ie - 04.12.2019
Do You like this radio? Recommend it to your friends!
Recommended Radios
00:00 -
The Sound of the City at Night
07:00 -
98FM'S Big Breakfast with Rebecca and Brendan
10:00 -
Dublin Talks with Adrian & Jeremy
12:00 -
The Sound of the City with Barry Dunne
16:00 -
The Big Ride Home With Brian Maher
19:00 -
The Fix with Ciaran O'Connor
22:00 -
The Sound of the City at Night with Karl Dawson