RTÉ Radio 1 - RTÉ Radio 1 LIVE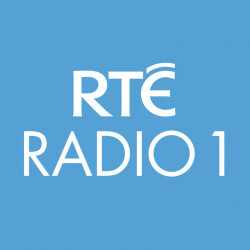 About RTÉ Radio 1
Listen online to the internet radio of RTÉ Radio 1 Live here, on IrishRadioLive!
RTÉ Radio 1 is Ireland's primary information source which started it's broadcast almost a century ago, in 1926. Originally launched as "2RN" and it was the first radio service of the Irish Free State. Through the historical times, the station had several names, and finally in 1979 arrived to its current name - RTÉ Radio 1 - it comes from the name of the owner Raidió Teilifís Éireann which is Ireland's National Public Service Broadcaster.
RTÉ Radio 1 has the biggest listenership in Ireland because not just keeps its listeners in line with the latest Ireland news and world news, but also entertains with a nice selection of music, and phone-in talks with the listeners, and naturally the sports news and weather reports diversify the programmes, so all demands are satisfied in one broadcast.
RTÉ Radio 1 has been broadcasting the "Morning Ireland" since 1984 which is Ireland's most listened to, and thus the most influential worldview shaping radio programme in the country. "Morning Ireland" is the first and number one in spreading the knowledge about the current affairs and politics of Ireland and the world on every weekday from 7am to 9am presented by Rachael English, Gavin Jennings, Audrey Carville and Bryan Dobson.
RTÉ Radio 1 has numerous sister stations - RTÉ 2FM, RTÉ Lyric FM, RTÉ Raidió na Gaeltachta, RTÉ Pulse, RTÉ 2XM, RTÉjr, RTÉ Gold, RTÉ Radio 1 Extra - which all represent the high quality of the Raidió Teilifís Éireann, but approach from different angles to the radio broadcasting to satisfy every possible type of listeners with every sphere of interest.

RTÉ Radio 1 availability: RTÉ Radio 1 is available on the traditional analogue way - 87.8-90.2 FM, 95.2 FM - and also on the digital solutions - we recommend the online radio stream.
For the detailed FM allocation, check the Freqencies section (below) and the Frequency map!

DAB Digital Radio: RTÉ Radio 1
Sky and Sky+: Channel 0160
Virgin Media: Channel 901 and 917 (with Ex Telewest only)

RTÉ Radio 1 's slogan: We've got the nation talking
Do You see incomplete, outdated or incorrect information on our site? Do You think You know more about a radio? Help us, write to us on Facebook and in exchange we grant You advertisement free use of our site! :)
Contacts
Armagh City

-

88.9

FM
Athlone

-

89.3

FM
Ballybofey, Donegal

-

89.7

FM
Bantry, SW County Cork

-

88.7

FM
Casla, Galway

-

88.4

FM
Central Mayo

-

89.3

FM
Co Longford and North Midlands

-

89.8

FM
Cork City

-

89.7

FM
Cork City and SE County Cork

-

89.2

FM
County Dublin

-

88.5

FM
County Monaghan

-

88.9

FM
Dingle Peninsula, Kerry

-

89.1

FM
Dunquin, Kerry

-

88.7

FM
East Donegal and Derry area

-

89.2

FM
East Ireland

-

89.1

FM
Falcarragh, Donegal

-

88.8

FM
Fermoy, Cork

-

89.4

FM
Kinsale, Cork

-

89.0

FM
Lehinch, Co Clare

-

89.7

FM
Limerick City

-

89.4

FM
Mid Kerry

-

88.4

FM
Mid Tipperary

-

89.0

FM
Mitchelstown, Cork

-

88.6

FM
NE Donegal & N Northern Ireland

-

88.3

FM
NE Ireland, SE & Central Ireland

-

87.8

FM
North County Tipperary

-

90.2

FM
North Donegal

-

89.8

FM
North East Wicklaw

-

89.5

FM
North Innishowen

-

88.9

FM
North Kerry

-

89.2

FM
North West Ireland

-

88.2

FM
North West Mayo

-

89.9

FM
SE Tipprary & N Waterford

-

88.3

FM
South East County Cork

-

88.2

FM
South East Ireland

-

89.6

FM
South West County Cork

-

88.3

FM
South West Ireland

-

90.0

FM
Waterford City

-

88.3

FM
West County Galway

-

89.5

FM
West County Waterford

-

88.5

FM
West Donegal

-

89.6

FM
West Ireland

-

88.8

FM
West Kerry

-

89.5

FM
RTÉ Radio 1 Frequency map






















































More radios
RTÉ Radio 1 comment box
This box is not read by the Radio's staff! So if You would like to ask for a song, or to send a word to the radio presenter, try the
Facebook Box
or
one of the contacts!
News about RTÉ Radio 1
Do You like this radio? Recommend it to your friends!
Recommended Radios
Featuring some of the most ear-catching moments you might have missed from the day on RTE Radio 1, filleted and ready for bingeing.
03:00 -
RTÉ Gold on RTÉ Radio 1
The greatest hits of all time.
Mornings with melody, featuring classic cuts and the best of new music presented by Shay Byrne.
People, events and happenings around the country, presented by Damien O'Reilly.
A compilation of the best of the week from RTE's audio services, presented by Sinéad Mooney.
A weekly look at the world of business and personal finance with Richard Curran
Brendan O'Connor presents a live stimulating mix of news, interviews, reports and discussion.
13:00 -
Saturday with Katie Hannon
Saturday with Katie Hannon questions agendas, dissects the week gone by, and debates the likely issues of the week to come.
Saturday Sport including debate on the week's sporting stories, feature interviews and the sports news of the day.
17:00 -
Saturday Sounds with Neil Doherty
Music, chat and competitions for a Saturday evening. Presented by Neil Doherty
19:00 -
The Collins Collection
Music man Ronan Collins shares the studio with a well known musical artist to talk about their career, their music and what motivates them to perform.
Presented by Siún Ní Dhuinn, Áine Ní Bhreisleáin and Sinéad Ní Uallacháin, three intelligent, funny and bold women, each with her own unique style.
Traditional music and song with Kieran Hanrahan
Philip King presents music, song and chat from the West Kerry Gaeltacht
The best in country music presented by Brian Lally, who'll do his best to have something old, something new, something borrowed and something bluegrass.