RTÉ Radio 1 - RTÉ Radio 1 LIVE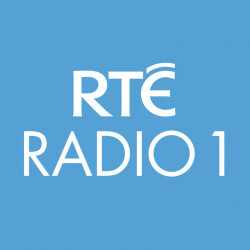 RTÉ Radio 1 - Server 1 - 96 Kbps
RTÉ Radio 1 - Server 2 - 96 Kbps
About RTÉ Radio 1
Listen online to the internet radio of RTÉ Radio 1 Live here, on IrishRadioLive!
RTÉ Radio 1 is Ireland's primary information source which started it's broadcast almost a century ago, in 1926. Originally launched as "2RN" and it was the first radio service of the Irish Free State. Through the historical times, the station had several names, and finally in 1979 arrived to its current name - RTÉ Radio 1 - it comes from the name of the owner Raidió Teilifís Éireann which is Ireland's National Public Service Broadcaster.
RTÉ Radio 1 has the biggest listenership in Ireland because not just keeps its listeners in line with the latest Ireland news and world news, but also entertains with a nice selection of music, and phone-in talks with the listeners, and naturally the sports news and weather reports diversify the programmes, so all demands are satisfied in one broadcast.
RTÉ Radio 1 has been broadcasting the "Morning Ireland" since 1984 which is Ireland's most listened to, and thus the most influential worldview shaping radio programme in the country. "Morning Ireland" is the first and number one in spreading the knowledge about the current affairs and politics of Ireland and the world on every weekday from 7am to 9am presented by Rachael English, Gavin Jennings, Audrey Carville and Bryan Dobson.
RTÉ Radio 1 has numerous sister stations - RTÉ 2FM, RTÉ Lyric FM, RTÉ Raidió na Gaeltachta, RTÉ Pulse, RTÉ 2XM, RTÉjr, RTÉ Gold, RTÉ Radio 1 Extra - which all represent the high quality of the Raidió Teilifís Éireann, but approach from different angles to the radio broadcasting to satisfy every possible type of listeners with every sphere of interest.

RTÉ Radio 1 availability: RTÉ Radio 1 is available on the traditional analogue way - 87.8-90.2 FM, 95.2 FM - and also on the digital solutions - we recommend the online radio stream.
For the detailed FM allocation, check the Freqencies section (below) and the Frequency map!

DAB Digital Radio: RTÉ Radio 1
Sky and Sky+: Channel 0160
Virgin Media: Channel 901 and 917 (with Ex Telewest only)

RTÉ Radio 1 's slogan: We've got the nation talking
Contacts
Armagh City

-

88.9

FM
Athlone

-

89.3

FM
Ballybofey, Donegal

-

89.7

FM
Bantry, SW County Cork

-

88.7

FM
Casla, Galway

-

88.4

FM
Central Mayo

-

89.3

FM
Co Longford and North Midlands

-

89.8

FM
Cork City

-

89.7

FM
Cork City and SE County Cork

-

89.2

FM
County Dublin

-

88.5

FM
County Monaghan

-

88.9

FM
Dingle Peninsula, Kerry

-

89.1

FM
Dunquin, Kerry

-

88.7

FM
East Donegal and Derry area

-

89.2

FM
East Ireland

-

89.1

FM
Falcarragh, Donegal

-

88.8

FM
Fermoy, Cork

-

89.4

FM
Kinsale, Cork

-

89.0

FM
Lehinch, Co Clare

-

89.7

FM
Limerick City

-

89.4

FM
Mid Kerry

-

88.4

FM
Mid Tipperary

-

89.0

FM
Mitchelstown, Cork

-

88.6

FM
NE Donegal & N Northern Ireland

-

88.3

FM
NE Ireland, SE & Central Ireland

-

87.8

FM
North County Tipperary

-

90.2

FM
North Donegal

-

89.8

FM
North East Wicklaw

-

89.5

FM
North Innishowen

-

88.9

FM
North Kerry

-

89.2

FM
North West Ireland

-

88.2

FM
North West Mayo

-

89.9

FM
SE Tipprary & N Waterford

-

88.3

FM
South East County Cork

-

88.2

FM
South East Ireland

-

89.6

FM
South West County Cork

-

88.3

FM
South West Ireland

-

90.0

FM
Waterford City

-

88.3

FM
West County Galway

-

89.5

FM
West County Waterford

-

88.5

FM
West Donegal

-

89.6

FM
West Ireland

-

88.8

FM
West Kerry

-

89.5

FM
RTÉ Radio 1 Frequency map








































RTÉ Radio 1 comment box
This box is not read by the Radio's staff! So if You would like to ask for a song, or to send a word to the radio presenter, try the
Facebook Box
or
one of the contacts!
News about RTÉ Radio 1
RTÉ to close its DAB digital radio stations in major strategy change
RTÉ is to close its digital radio stations including RTÉ 2XM, RTÉ Pulse, RTÉ Gold, RTÉjr Radio & RTÉ Radio 1 Extra as part of a major revised strategy to address key issues facing the organisation. It says costs will need to be reduced by €60 million over three years (2020-2023), in addition to the reduction of 23% delivered by RTÉ between 2008 and 2018. RTÉ says fees paid to its top contracted on-air presenters will also need to be cut by 15%, in addition to the 30+% cuts as agreed in previous years. Over 200 people will need to leave in 2020...
More >>
radiotoday.ie - 07.11.2019
Tributes paid to broadcaster RTÉ radio and TV broadcaster Gay Byrne
Listeners and colleagues across the radio industry are paying tribute to RTÉ broadcaster Gay Byrne who has died at the age of 85. Gay started work as a newsreader and continuity announcer on Radio Éireann in the late 1950s before moving to Granada Television in Manchester, where he worked on a variety of shows, interviewing acts including The Beatles. For a time he commuted between Dublin and UK, working for both the BBC and RTÉ, but came back to Ireland full time in the late 1960s as presenter and producer of The Late Late Show. The programme went on to become the world's longest-running chat show...
More >>
radiotoday.ie - 05.11.2019
All the winners from the IMRO Radio Awards 2019
The winners for the all-Ireland IMRO Radio Awards 2019 have been announced. They include Newstalk getting Gold in the Full Service Station of the Year category, 98FM winning the title of Music Station of the Year and WLR FM coming out on top as Local Station of the Year. Hundreds of radio industry folk watched the event unfold on Friday night at the Lyrath Estate Hotel Kilkenny. The Outstanding Achievement accolade was awarded to Beat 102-103 Chief Executive Officer...
More >>
radiotoday.ie - 04.10.2019