Global Irish Radio - Global Irish Radio LIVE
If the online broadcast of Global Irish Radio doesn't start, or lags,
please contact us on the
Contact page
, or try to find the error on the
Troubleshooting page
.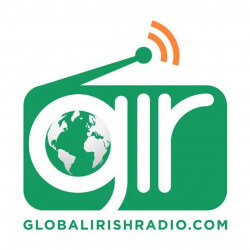 About Global Irish Radio
Listen to the online radio of Global Irish Radio live, a 24-hour streaming platform showcasing Irish radio programmes from Ireland and around the world. Global Irish Radio's mission is to preserve and promote Irish music, heritage, and culture globally. The platform is dedicated entirely to Irish content and features music from all Irish genres, including folk and ballads, traditional music, Irish country music, Celtic rock, and pop. The station's headquarters are located in County Mayo, and it broadcasts live feeds from various parts of the world alongside pre-recorded shows.

Global Irish Radio slogan: "ALL Irish - ALL the Time"
Do you see incomplete, outdated or incorrect information on our site? Do you think You know more about the radio? Help us, write to us on Facebook and in exchange we'll reward you with advertisement free use! :)
Contacts - Phone number, SMS, E-mail, Facebook etc.
More radios
Global Irish Radio comment box
This box is not read by the Radio's staff! So, if you would like to ask for a song, or send a word to the radio presenter, try one of the
contacts!
Recommended radios

11:08
Gerry Byrne Sunday Show - -

11:07
Gerry Byrne Sunday Show

11:04
Gerry Byrne Sunday Show - Keep Me in Your Heart

11:04
Gerry Byrne Sunday Show - -

11:01
IrishRadio.org - Gerry Byrne

11:00
Gerry Byrne Sunday Show - Sunday Morning Coming Down

11:00
Gerry Byrne Sunday Show

11:00
IrishRadio.org - Gerry Byrne

10:59
The Fureys - Mary And Me

10:00
Finbar's Raggle Taggle - Raggle Taggle gir017
Get older playlist
01:00 -
Hibernian Radio Hour
Mike Houlihan
02:00 -
The Houli's Hooley
Bill & Paddy Houlihan
03:00 -
Good Morning Ireland Repeat
Repeat
11:00 -
Gerry Byrne Weekends
IrishRadio.org
Mark O'Brien & Ken Tracey
16:00 -
Come West Along the Road
Marianne MacDonald
18:00 -
Ireland Calls NYC -Repeat
Tommy Smyth & Treasa Goodwin Smyth
19:00 -
Feast of Irish Music LIVE
Seamus Mulligan WROL 950 AM
22:00 -
Andy Cooney's New York Irish Music Hour
Andy Cooney
23:00 -
Sessions from the Cottage
Sharon Smith Iberle