Kick Covid Country Radio - KCC Radio Live - KCC Ireland
If the online broadcast of Kick Covid Country Radio doesn't start, or lags,
please contact us on the
Contact page
, or try to find the error on the
Troubleshooting page
.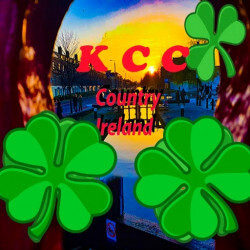 About Kick Covid Country Radio
Listen to the online radio of Kick Covid Country Radio (KCC Ireland) live, established on April 1, 2020, with the aim of providing a diverse mix of country music, including classics, crossover, and rock, performed by both Irish and American artists. Its inception was a response to the initial Covid-19 lockdown, designed to offer support to its listeners. KCC Ireland actively promotes new artists and emerging talents within the country music genre, showcasing their music. Additionally, they extend their support to live performances in Ireland and abroad. While their primary target audience is the 35+ age group, listeners of all ages can enjoy their varied playlist filled with great music.

Kick Covid Country Radio slogan: "We Let The Music Talk"
Do you see incomplete, outdated or incorrect information on our site? Do you think You know more about the radio? Help us, write to us on Facebook and in exchange we'll reward you with advertisement free use! :)
Contacts - Phone number, SMS, E-mail, Facebook etc.
More radios
Kick Covid Country Radio comment box
This box is not read by the Radio's staff! So, if you would like to ask for a song, or send a word to the radio presenter, try one of the
contacts!
Similar radio stations in other countries

12:00
- 12 Noon Lunch Without Lou :(

11:59
Robert Mizzell - Louisiana Saturday Night

11:55
Vince Gill & Paul Franklin - One More Time

11:53
Becky Hobbs - They Always Looks Better When They're Leavin'

11:49
Claudia Buckley - This Is the Life

11:49
- Joe Chicken Sting

11:47
- David James I Wouldnt Want It Any Other Way

11:43
Willie Nelson - I Been to Georgia on a Fast Train


11:39
Johnny Brady - Have We Reached the Bottom Yet
Get older playlist
00:00 -
Lunch With Lou Repeat
A Lively Mix of New Classic and Crossover Country. Requests and Dedications
03:00 -
2.0 AM Early Morning Chill Time
Through the Night relaxing country
08:00 -
Gerry Callan's Weekly Country Music Review
Gerry covers new releases country whose who news every week on KCC Country Radio Ireland (Kick Covid Country).
A Lively mix of New Classic And Crossover Country
Slow and Easy Dinner Time Wind Down from 6PM to 6.30PM
20:00 -
This Is Country with Gerry Callan
Country music on a theme
A different topic each week
Classic easy listening country to let you relax with a glass before bedtime.