Cool FM LIVE - Cool FM Radio LIVE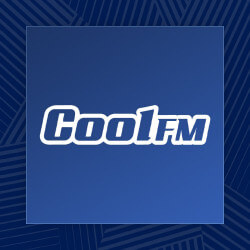 About Cool FM
Listen online to the internet radio of Cool FM live here, on IrishRadioLive!
Bauer Radio Ltd. made its Northern Ireland radios available digitally in Ireland - so You can listen to them on IrishRadioLive!
Cool FM launched in 1990 as sister station of Downtown Radio, located in Northern Ireland, and is in the ownership of Bauer Radio Ltd., member of the Planet Radio station fleet, and part of Bauer's Hits Radio Network. 527.000 weekly listeners choose Cool FM in the UK, so Cool FM is the biggest radio station in Northern Ireland. The target age group is the 25-44, so Cool FM's playlist is filled with the most popular music of the last 20 years, and with some of the 80s and 90s. Besides the music, mainly Northern Ireland related news, travel-traffic info and weather reports are also included in the daily schedule.
The mornings of Northern Ireland are set in motion by the breakfast team of Cool FM, so Paulo Ross, Pete Snodden and Rebecca McKinney supervise the freshness of the starting waves of the day on weekdays from 6am to 10am.

Cool FM music genre: pop

Cool FM availability: You can tune in to Cool FM on the traditional analogue radio on 97.4 FM in Northern Ireland, while the digital solutions are optional without area restrictions. We recommend the online radio stream.

DAB Digital Radio: Cool FM (Northern Ireland)

Cool FM 's slogan: "Northern Ireland's Number 1 for Music"
Do You see incomplete, outdated or incorrect information on our site? Do You think You know more about a radio? Help us, write to us on Facebook and in exchange we grant You advertisement free use of our site! :)
Contacts






















































More radios
Cool FM comment box
This box is not read by the Radio's staff! So if You would like to ask for a song, or to send a word to the radio presenter, try the
Facebook Box
or
one of the contacts!
News about Cool FM
Bauer targets listeners and advertisers in ROI
Bauer Media Northern Ireland has enabled online listening across the whole island. For the first time, Republic of Ireland consumers will be able to listen live (or listen later) to Cool FM, Downtown Radio and Downtown Country through its branded mobile apps, on computer and on smart speaker. Recently appointed Managing Director of Bauer Media NI, David Tighe, believes the move is a key development for the stations: "We've been clear that we are keen to explore opportunities across the Island-wide market and this marks another important step forward for our business," said David...
More >>
radiotoday.ie - 21.06.2020
Do You like this radio? Recommend it to your friends!
Recommended Radios
01:00 -
All Night Cool FM
Great non-stop music through the night.
06:00 -
Pete Snodden in the Morning
Morning from Pete, Paulo & Rebecca - playing all the hits to get you up, along with the 'Pundown' and 'Cool Before School'
Listen in everyday for the Top 10 @ 10 and Cool of Rock
13:00 -
Afternoons with Curtis McCosh
Curtis has all the hits and you pick the songs on 'Your Call' every afternoon - get involved now on Snapchat 'officialcoolfm'
16:00 -
Cool Drive with John Kearns
JK has the hits at hometime
Hix has all the hits for NI starting with NI's most Shazammed songs on Cool's Most Wanted 7@7
Melissa playing all the hits, plus the iconic Cool Goes Quiet after 11pm - get involved now on Snapchat 'officialcoolfm'