Cool FM - Cool FM LIVE - Cool FM Listen LIVE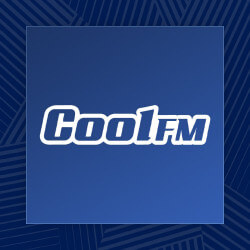 About Cool FM
Listen to the online radio of Cool FM live, which was launched in 1990 as a sister station to Downtown Radio. Cool FM is based in Northern Ireland and is owned by Bauer Radio Ltd., and a member of the Planet Radio station fleet. It is Northern Ireland's largest radio station, catering to the 25-44 age group. As a result, the station's playlist is filled with the most popular music from the last 20 years, as well as some from the 80s and 90s. In addition to music, the daily schedule includes mainly Northern Ireland-related news, travel and traffic information, and weather reports. The radio's breakfast team, consisting of Paulo Ross, Pete Snodden, and Rebecca McKinney, ignites Northern Ireland's mornings from 6am to 10am on weekdays.

Cool FM slogan: "Northern Ireland's Number 1 for Music"
Do you see incomplete, outdated or incorrect information on our site? Do you think You know more about the radio? Help us, write to us on Facebook and in exchange we'll reward you with advertisement free use! :)
Contacts - Phone number, SMS, E-mail, Facebook etc.
Cool FM frequencies
Northern Ireland

-

97.4

FM
The broadcast is available on the traditional analogue radio way on 97.4 FM in Northern Ireland, and also on the digital solutions like DAB Digital Radio, we recommend the online radio stream.
More radios
Cool FM comment box
This box is not read by the Radio's staff! So, if you would like to ask for a song, or send a word to the radio presenter, try one of the
contacts!
News about Cool FM
Cool Workout spin-off radio station launched by Cool FM
Cool FM is launching an online radio service for anyone taking part in this year's Deep RiverRock Belfast City Marathon. "Cool Workout" will be running in conjunction with the event and is the first spinoff station to be launched by Cool FM in its 30-year history. David Tighe, Managing Director of Bauer Media/Cool FM said: "Our pop-up station brings a new dimension to our partnership with Belfast City Marathon, offering the soundtrack to a healthy training regime...
More >>
radiotoday.co.uk - 19.08.2021
New weekend schedule at Cool FM as Andy Baird leaves
In his place, a range of new presenters and programmes as the Bauer service introduces a new 'Spring schedule'. There are new slots for Melissa Riddell, Katharine Walker, DJ Hix, and Owen Beers. Fashion blogger Melissa Riddell will take over the weekend breakfast slot (6-10am). Melissa started her time at Cool FM in 2017 through the 'Cool Choices' programme – a scheme designed to offer work experience in the media industry to young people aged 16 to 24...
More >>
radiotoday.co.uk - 24.01.2021
Bauer targets listeners and advertisers in ROI
Bauer Media Northern Ireland has enabled online listening across the whole island. For the first time, Republic of Ireland consumers will be able to listen live (or listen later) to Cool FM, Downtown Radio and Downtown Country through its branded mobile apps, on computer and on smart speaker. Recently appointed Managing Director of Bauer Media NI, David Tighe, believes the move is a key development for the stations: "We've been clear that we are keen to explore opportunities across the Island-wide market and this marks another important step forward for our business," said David...
More >>
radiotoday.ie - 21.06.2020
Similar radio stations in other countries
Recommended radios


11:26
The Script - If You Ever Come Back



11:10
Gala - Freed From Desire


11:03
Cash Cash ft. Bebe Rexha - Take Me Home

10:54
Foo Fighters - Best Of You

10:50
Kylie Minogue - All The Lovers

Get older playlist
Great non-stop music through the night.
Melissa & Curtis have the biggest hits for your weekend wakeup
Join Owen for the all the classics from The Cool Years every Sunday from 10am
Northern Ireland's Number 1 For Music with Owen Beers
Northern Ireland's Number 1 for Music with Ryan A
DJ Hix counts down NI's biggest 40 songs of the last 7 days, from the songs we're playing on air, you've been streaming, downloading, watching and Shazamming!
Evanna plays the biggest hits for NI
Tameron has great songs for a Sunday night, plus Cool Goes Quiet from 11p.m.