SPIN 1038 LIVE - SPIN FM LIVE - SPIN FM Dublin Live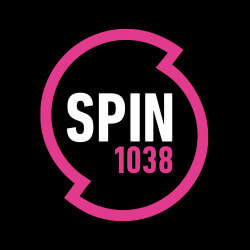 About SPIN 1038
Listen online to the internet radio of SPIN 1038 live here, on IrishRadioLive!
SPIN 1038 launched in 2002 and operates as a commercial local radio station in its Dublin studios. SPIN 1038 is in the ownership of Communicorp Group Ltd.
SPIN 1038 is one of the most youthful radios in Ireland with a 15 to 24 target age group, and for satisfying the most dynamic age group, builds up its programme structure with lots of the freshest pop music, mainly from the Top 40 but in specialist programmes alternative styles diverse the music line-up, like house, urban, indie, and as a bonus Irish and Irish alternative music. In the name of youthfulness serious topics are left out from the discussed topics, but refreshing and weightless chit-chats, vivacious conversations invigorate the atmosphere in the time of talk. Hourly short news bulletins with local, national and international news, sports, traffic and weather updates informs the listeners.
SPIN 1038 speeds up the weekday mornings with "Fully Charged" breakfast show led by Graham O'Toole and Nathan O'Reilly.
SPIN 1038 has a spin-off station "SPINXTRA" with similarly youthful approach focused on urban music style.

You can select SPIN1038's sister station "SPINXTRA" below the player!

SPIN 1038 music genres: pop, Irish

SPIN 1038 is available on the traditional analogue way in County Dublin, and partly in its surrounding areas - for the detailed FM allocation, check the Frequencies section below and the Frequency Map! SPIN 1038 is also available through the internet, we recommend the online radio stream.

SPIN 1038 's slogan: "Hit Music Now"
Do You see incomplete, outdated or incorrect information on our site? Do You think You know more about a radio? Help us, write to us on Facebook and in exchange we grant You advertisement free use of our site! :)
Contacts






















































More radios
SPIN 1038 comment box
This box is not read by the Radio's staff! So if You would like to ask for a song, or to send a word to the radio presenter, try the
Facebook Box
or
one of the contacts!
News about SPIN 1038
Spin gets exclusive chat with George Clooney
SPIN 1038'S Plan B landed an Irish radio exclusive with George Clooney this week. The actor is currently promoting his new movie The Midnight Sky, an American Sci-fi which Clooney both directed and stars in. Speaking to Plan B host Sarina Bellissimo on SPIN 1038 this morning (Saturday), George recalled his time in Ireland meeting his relatives, life in lockdown and how he's never happier than when he's at home with the kids...
More >>
radiotoday.ie - 19.12.2020
SPIN 1038 secure world exclusive with Matt Damon
Dublin station SPIN 1038 has announced a world exclusive interview with Matt Damon. The IMRO-winning breakfast show, 'Fully Charged with Graham and Nathan' will air their interview with the Hollywood A-lister on Wednesday, 13th May at 8am. Media outlets such as The New York Times have tried and failed secure an interview with Damon. SPIN's in-depth interview will be the only media interview from the star surrounding his time in Ireland. This success follows weeks of on-air campaigning from presenter Nathan O'Reilly to speak with the actor...
More >>
radiotoday.ie - 11.05.2020
SPIN 1038 and SPIN South West to network daytime shows
SPIN 1038 and SPIN South West are increasing their shared programmes to include weekday daytimes. Breakfast and Drive will remain local to each area while mid-morning and evenings will become shared across both regions. Localised news, sport, weather and travel will be retained all day, every-day, on each station. It's not know if there are any job losses as a result but RadioToday has contacted the group for clarification. The new shared schedule, across the SPIN South West Region and SPIN 1038 Dublin region will be:...
More >>
radiotoday.ie - 05.03.2020
02:00 -
SPIN HITS AT NIGHT
10:00 -
The Bellissimo Files
12:00 -
POP RAIDIÓ with Niamh
15:00 -
SPIN HITS WITH TARA
19:00 -
SATURDAY NIGHT TAKEOVER